An Orlando vacation might be an LGBTQ-friendly destination that comes to mind when planning a trip to Florida. After all, who doesn't love being gay at Disney or Universal Studios? But there is more to Orlando than those parks, and we don't mean Legoland. Orlando North is just 25 minutes north of Downtown and is comprised of Sanford, Lake Mary, Oviedo, and Altamonte Springs, to name a few towns, and also has a bunch of LGBTQ-Friendly attractions and things to do. If you are trying to avoid the crowds in the parks and enjoy nature instead, head north to Orlando North, Seminole County.
To assist in your Orlando North travel plans, we have put together a three-day itinerary to help you plan your LGBTQ-welcoming vacation, or long weekend, that incorporates a wide range of activities that should make everyone in the "family" happy!
DAY 1 – WEDNESDAY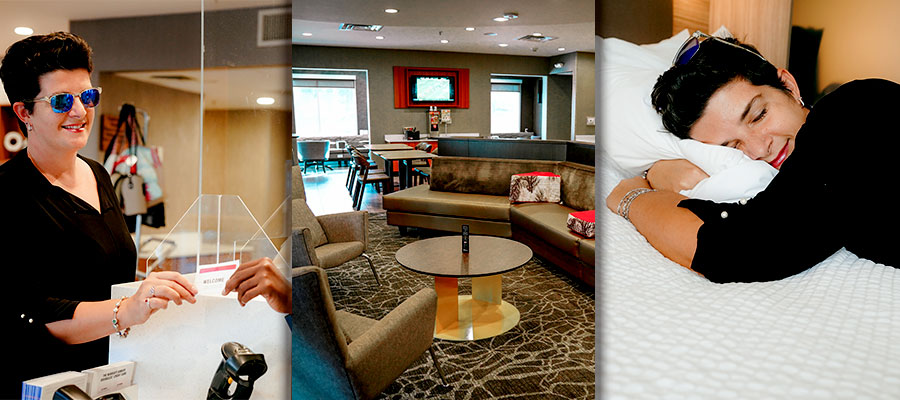 Take it easy on your first day in Orlando by spending time in your hotel, then topping it off with a laid-back dinner at the restaurant of your choice.
SPRINGHILL SUITES BY MARRIOTT ALTAMONTE SPRINGS/MAITLAND
The SpringHill Suites by Marriott Altamonte Springs/Maitland has an indoor pool, hot tub, and fitness center. Consider exploring the nearby Altamonte Springs Mall which boasts over a hundred shops and restaurants. Or take a stroll around Cranes Roost Park to catch the sunset.
DINNER
Have dinner at a restaurant nearby – there are a ton of options within walking distance from your hotel and in the Altamonte Springs Mall. These are some of our favorites:
CAFE MURANO INSPIRED ITALIAN CUISINE
Italian food lovers will swoon over the oven-roasted pizzas, meatballs, and ravioli at Cafe Murano. The wine list is also one of the best in the region. With sunset views over neighboring Cranes Roost Park, this is also a perfect place for a romantic dinner followed by a nighttime stroll.
4 RIVERS SMOKEHOUSE
If you are in the mood for some great barbecue and cornbread, then head to 4 Rivers Smokehouse. 4 Rivers has soft, tender BBQ and excellent burnt-end sandwiches that reviewers often rave about.
CREPEVINE
Looking for something lighter? Check out Crepevine, which has the most delicious decadent crepes on this side of the Atlantic. It has both sweet and savory crepes, so this place is worth the visit for the meal – not just for dessert!
LAS LOMAS MEXICAN GRILL
Las Lomas might seem unassuming from the street but its food is delicious, and its portions are generous. This Mexican restaurant also has excellent margaritas!
DAY 2 -THURSDAY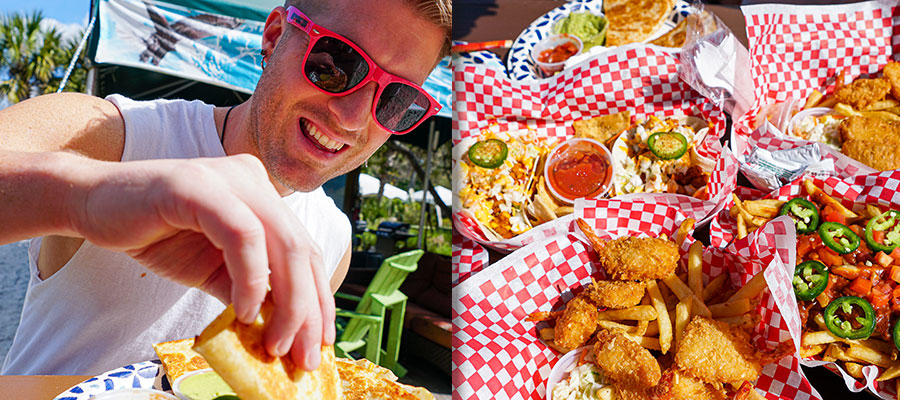 Spend the whole day outdoors enjoying the tropical Florida weather. This is the perfect day to take a trip to Wekiva Island! We suggest either grabbing food ahead of time at Wade's Grocery Store or ordering some tasty grub on the Island.
WEKIVA ISLAND
Wekiva Island means fun in the sun for the whole family. Enjoy kayaking, fishing, and swimming in the river. Or if you're more of the relaxing type, rent a cabana and spend the whole day barbecuing or hanging out with friends and family
Bring a picnic or barbecue for your own feast at Wekiva Island, which provides grills for guests who rent cabanas. Just a reminder: Wekiva Island does not allow outside alcohol, so only bring snacks or food you are going to cook.
If picnics aren't your thing or you don't feel like grilling, there are other options at Wekiva Island! Get some ice-cold brews or wine at their onsite bar, the Tooting Otter. You can also head to the Without a Paddle Cafe food truck for breakfast, lunch, or dinner. It has everything you might want to fuel a day of fun at the river. Try the gator tacos or the fish sandwich! And by all means, include a side of basil pesto fries!
TOPGOLF LAKE MARY
After a long day at Wekiva Island, Topgolf is a great way to cap it off. Have some delicious food and hit some golf balls with family or friends.
The three-tiered driving range offers 33 private bays to gather and party with friends while showing off your swing. Choose from several games and compete for bragging rights. Or go slow and casual.
Not only is the facility impressive in size but the food at Topgolf is impressive in flavor. We loved the mac n cheese bites as well as the chicken nachos. For dessert go with the donut holes. You literally inject your donut hole with a filling of choice (chocolate syrup, vanilla pudding, or strawberry jam) using a syringe. We've all been told not to play with our food, but Topgolf gives you full permission to play as much as you want!
LGBTQ Fact: Topgolf has recently partnered with the One Pulse Foundation to install 49 trees alongside the driving range fence as a symbol of the 49 angels lost to the Pulse Nightclub shooting. So, make sure to take a stroll past the trees to honor their memory.
DAY 3 – FRIDAY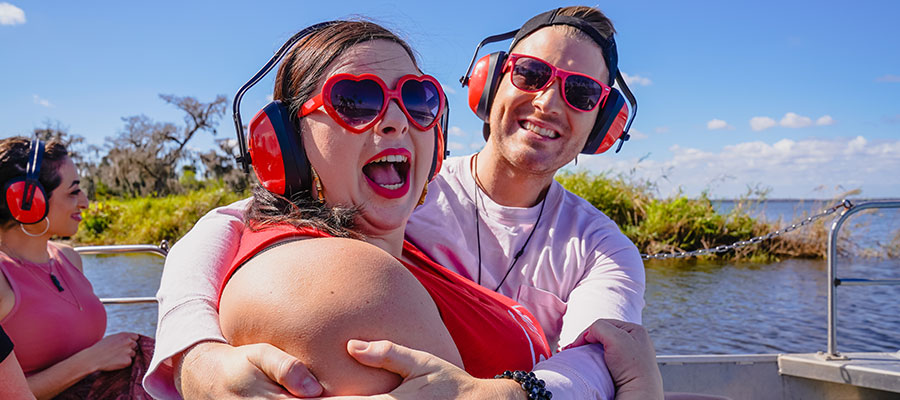 Spend the morning zipping through the trees and checking out the animals at the Central Florida Zoo and Botanical Gardens. In the afternoon, experience an airboat tour around the Black Hammock Wilderness area.
CENTRAL FLORIDA ZOO AND BOTANICAL GARDENS
The Central Florida Zoo is a fascinating place to visit, especially if you like snakes and birds. At the Central Florida Zoo, you even can go on an adventure through the trees in a series of ziplines and unique obstacles. Take note that this course requires shoes!
Kids Course flight times are 11 AM and 2 PM, Upland & Rainforest flight times are 10 AM, 12 PM. and 1 PM. The course is closed Wednesdays and Thursdays. The zoo is open every day from 9 AM to 4 PM.
BLACK HAMMOCK TOURS
You can't go to Florida without taking an airboat tour! While airboat tours are popular in the Everglades, Central Florida's lakes offer airboat opportunities, too. Fortunately, Black Hammock Tours in Oviedo is only 30 minutes away from your hotel. Book a 30-minute or 60-minute beautiful yet exhilarating ride on Lake Jesup. Fun fact: Lake Jesup has the highest population of alligators in all of Florida, talk about a thrill! Make sure to also visit with the resident Macaws and alligators prior to launch. Morgan and Mike like to nibble on snacks.
After your ride, grab a drink at the Lazy Gator Bar or check out their lakeside restaurant. The pulled pork sandwich and hush puppies were outstanding!
EXPLORE 1ST STREET
Explore 1st Street Sanford, a quaint brick street with galleries, shops, restaurants, and breweries. There are plenty of little antique stores where you can get one-of-a-kind gifts. Don't worry about wandering off 1st Street, as there are many gems for you to discover just off the main path.
Start at Magpies Modern General to pick up a few gifts and novelty treasures. Then stop by the Gallery on First and wander through the Jeanine Taylor Folk Art exhibit. If you're a bookworm or a music buff, then pay a visit to Maya Books and Music. You'll get lost among the aisles for hours. They even have an LGBTQ book section! And by all means, stop at Hollerbach's Outfitters to try on authentic lederhosen and dirndls.
Then head to one of the many breweries or beer gardens in Downtown Sanford to sample one of the local brews. You'll find a plethora of Belgian and German beers in Sanford. You can also stop at Hollerbach's Market to pick up a few beers and treats for later.
DINNER AT BUSTER'S BISTRO
Have dinner at Buster's Bistro just a few blocks away from 1st Street. Buster's is a Belgian restaurant with Belgian beers on tap and hand-cut fries. It is a popular place to have a cold beer and excellent food – the truffle fries are to die for! And make sure to enjoy the Belgian waffle for dessert. It's o-so-amazing!
Most nights Buster's entertains patrons with music and entertainment. Once a month, the popular restaurant hosts Drag Bingo with the Sandford Pride group. Popular drag queen, Ashley Satine, is the "hostess with the most-est." Check the Buster's Bistro entertainment calendar before planning your visit.
DAY 4 – SATURDAY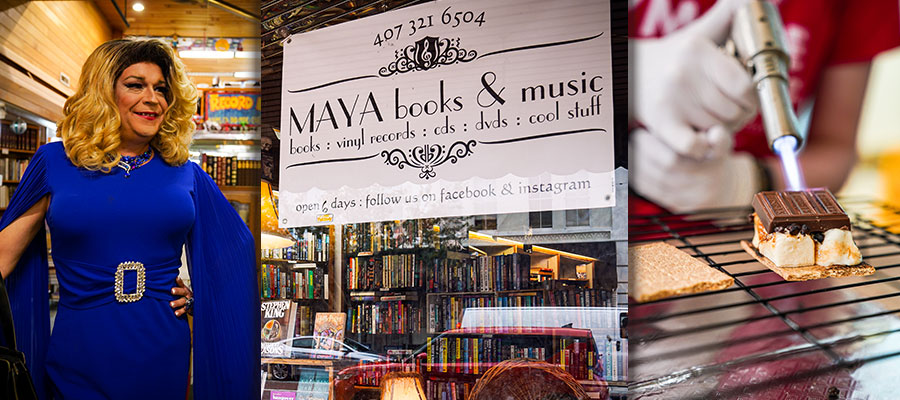 On your last day in Orlando North, take it easy. Rather than springing to activities, have a leisurely brunch and then explore a farmer's market before heading out. Don't forget a sweet treat before heading home.
DEXTER'S
Instead of having the hotel breakfast, treat yourself to a local favorite on your last day! Head to Lake Mary to have brunch at Dexter's.
Dexter's is a popular spot with a delicious brunch menu. Get Dexter's eggs benedict or the country-style chicken and biscuits. This spot also has excellent cocktails – yes, even at brunch! Bottomless mimosas run for just $15.
SANFORD MARKET AT MAGNOLIA
Head back to Sanford and stop at the Sanford Farmer's Market at Magnolia Square for some fancy soaps, healthy teas, and unique gifts. You can also get farm-fresh produce or indulge in some of the delectable baked goods that it has to offer.
ENJOY TEA & SMORES
Although Day 3 included time in Downtown Sanford, we would be remiss to not include a visit to our two favorite places, both perfect spots to enjoy before heading home.
Rosie Lee Tea Co is an apothecary meets tea shop experience. Their loose leaf tea selection seems endless. Our suggestion is the chai latte with Myracle Mylk (perfect for those lactose intolerant bellies).
Then end your visit n this long LGBTQ-friendly weekend on a sweet note at Wondermade. This marshmallow and ice cream shop is famous for its pillowy sweet treats. They also make S'mores right on site. Pick from over a dozen marshmallow flavors to create the perfect treat.
Fun fact: Wondermade is the primary marshmallow supplier to Disney World.
FINAL THOUGHTS
If you are spending some time in Orlando, keep in mind that there is more to Central Florida than the theme parks! While Disney and Universal Studios are a huge draw for sure, there are other things to do and see on your Florida Vacation. If you want to experience the real Florida, Orlando North is just the place to do it.