Getting the whole family together for a healthy meal that everyone will enjoy is easy on International Drive. October is National Eat Better, Eat Together Month, and International Drive is the perfect place to find a family-friendly atmosphere to gather around the table and enjoy a delicious, healthy meal with the family. So eat better and eat together on I-Drive.
Next time you're on International Drive and want to enjoy a health-conscious, wholesome meal with the whole family, be sure to check out these popular family-friendly dining destinations.
The Mexican Camel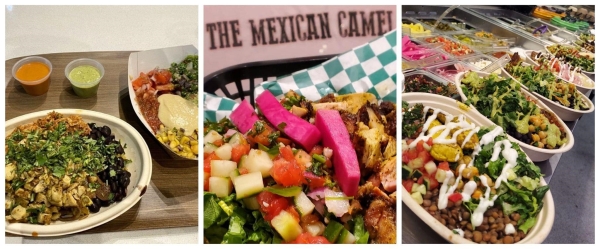 Can't decide between Mediterranean and Mexican? You don't have to! The Mexican Camel is a Mexican and Mediterranean Fusion restaurant serving up healthy, halal, veggie, and vegetarian items that are prepared using fresh, tasty, and powerful ingredients.
Whatever craving you're looking to satisfy, you can choose between one of their tasty fusion bowls, or use their fresh ingredients to create a bowl of your own, or choose something else like a burrito wrap, soup, or salad. Offering plenty of tasty vegan and vegetarian options, the whole family will find something healthy and delicious to fill up on during a family meal shared at The Mexican Camel.
Cafe Tu Tu Tango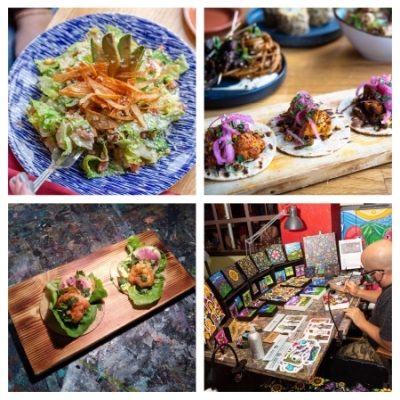 Why settle for one flavor when you can sample all the flavors when you eat together on I-Drive?
Rather than ordering up a large portion of one menu item, enjoy gathering around a table at Cafe Tu Tu Tango where you can order up various eclectic appetizer-style menu items made to be shared amongst everyone at the table. Have a little fun and let everyone in the family pick an item that they think looks good, and then have fun tasting each other's choices.
This multi-cultural eatery is an all-appetizer eatery with a menu that is designed to be particularly intriguing… as is the theme of the restaurant, designed to make guests feel as though they've walked into a wild artist's loft in Barcelona, Spain, and as you would imagine, a party is always in progress! Live entertainment occurs spontaneously throughout the evening, and local artists paint and display their artwork at various art stations throughout the restaurant.
Your family meal here will feel like a party, and the entire family will enjoy tasting new, unique flavors from their delicious well-rounded menu that features plenty of tasty takes on fresh, healthy foods.
CoCo Thai Cuisine

Spice up your next family dinner with some authentic Thai cuisine! Thai cuisine is known for being full of color and flavor, celebrating lightly prepared fresh and fragrant dishes where balance, detail, and variety come together to please the palate!
With a menu boasting a variety of protein options, alongside various vegetables, each menu item is freshly prepared by a chef behind a glass divider that allows guests to see their meal being prepared first-hand.
CoCo Thai Cuisine is a family-owned restaurant that has become a favorite spot for authentic Thai cuisine by locals and visitors on International Drive, alike, offering a variety of vegan, vegetarian, and gluten-free options, plus various spice levels to satisfy any taste buds, all to be enjoyed in a contemporary, modern style dining atmosphere with reasonable prices.
Enjoy spicing things up the next time you eat together on I-Drive at Coco Thai Cuisine.
Bahama Breeze Island Grille

Every family meal needs a little chill, and if you're looking for a laid-back, worry-free atmosphere to enjoy your next family dinner on I-Drive, Bahama Breeze should be a perfect fit.
Enjoy ordering something from an incredible selection of delicious and health-forward authentic Caribbean dishes. Choose from fresh seafood dishes like their oak-grilled Grouper, classics like center-cut Filet-Mignon, Jerk Chicken Pasta, slow-roasted West Indies Ribs with Mango Guava glaze, or something else! As you browse their menu you'll find various gluten sensitive, vegetarian, and healthy conscious menu items to choose from.
Treat yourself to a Bahamarita, their signature frozen margarita with real kiwi, mango, and strawberries; then simply sit back, relax, and enjoy live island music that occurs frequently at the restaurant, as you dig into a delicious authentic Caribbean dish with the whole family at Bahama Breeze.
Mooyah Burgers

Fast, casual, and oh so delicious! But, don't be fooled by their name, although they are known for serving up drool-worthy juicy burgers, fries, and sugar-rush-inducing milkshakes, they also offer a large variety of healthier options that allow you to enjoy guilt-free, juicy goodness.
Aside from an entire Gluten-free menu that offers all of the yummy stuff you'd expect from a burger joint, Mooyah Burgers also offers a variety of Jenny-O turkey burgers and Dr. Praeger's vegan black bean burgers to choose from, and if you're really craving a certified Angus beef burger, you can opt for a lettuce bun.
Their new offerings, called, "Lifestyle Burgers' ' have something for everyone; vegan, paleo, keto, low-calorie, and gluten-free… you just won't' find these more healthy, and equally delicious options at another burger joint. So, bring the whole family and dig into something delicious during your next family meal.
Family time spent around the dinner table is invaluable, and there's no reason to skip family dinners while visiting Orlando's Most Dynamic Neighborhood.
Even on vacation, you can enjoy a wholesome, family meal that will have everyone around the table smiling, while nourishing your body with fresh and healthy ingredients. So, eat better, and eat together, because when you choose to gather around the table at one of these dining destinations on International Drive, it's sure to be an experience the whole family will remember and cherish.
See a full line-up of restaurants on I-Drive and start planning your next family meal today!