On International Drive, the temporary abnormality has changed how we enjoy the many exciting and unique experiences that we all know and love; but luckily, it hasn't changed our ability to still enjoy them! And when it comes to dining, enjoying a delicious meal on I-Drive is still as easy as it's ever been.
Restaurants up and down I-Drive have put an enormous effort into complying with CDC guidelines, while still bringing the same delicious, and enjoyable dining experience that customers have grown to cherish.
From limiting capacity, situating seating 6 ft apart, utilizing outdoor space, making readily available to-go meals; to enhanced sanitary precautions, including employee screening, requiring personal protection equipment, limiting the use of high touch items like condiments and menus, and adhering to frequent stringent cleaning protocols; they've been successful at safely serving guests during this hard time.
Check out what these popular dining spots on I-Drive are doing to ensure that your dining experience is as delicious, and safe, as ever and get ready to indulge in a delectable meal on International Drive with peace of mind.
1. Tin Roof Orlando

Better than bar eats, live music, and cold drinks in paradise… it doesn't get much better than that! Tin Roof Orlando is situated in Orlando's favorite hometown playground, ICON Park, and is known for hosting live nightly music while providing an atmosphere that is casual, comfortable for locals and visitors alike, and of course – FUN!
Using their dance floor to create additional indoor seating so they can accommodate more guests, in addition to their large outdoor seating patio, and open-air environment; their staff is trained in the latest CDC recommendations, and are ready to serve you!
2. Maggiano's Little Italy

A scratch-made Italian meal, just like Nonna used to make; serving up something delicious for every meal, brunch, lunch, and dinner – so you can sip on a delicious glass of wine, pick at a quick antipasto, and savor the rich flavors of Little Italy, any time!
With their first store opening in 1991, they've been serving customers for over 20 years, and are used to making adjustments over the years to better accommodate the ever-changing needs of their customers. This past year they've developed new services, and gotten creative to bring their guests the same old scratch-cooked Italian-American favorites while keeping guests safe and adhering to CDC guidelines.
Want to dine at home? Maggiano's makes that easy too! Plus, their family meals are a huge hit! Easily order your family meal, or anything from their current menu online and enjoy quick and convenient carryout service.
3. Rodizio Grill – The Brazilian Steakhouse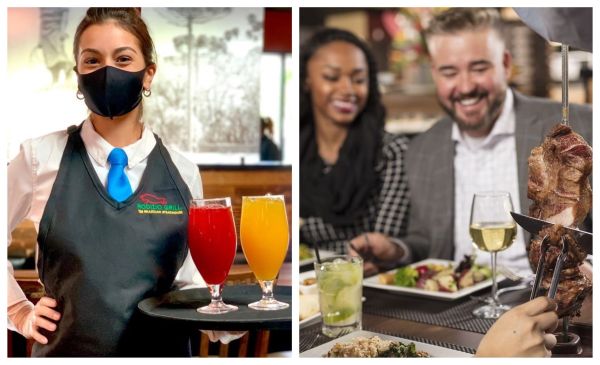 An authentic Brazillian experience awaits you at Rodizio Inspired by the Southern part of Brazil. Rodizio offers a dozen different rotisserie-grilled meats, perfectly seasoned, and carved tableside by the Rodizio Gauchos. Due to the nature of this authentic Brazilian experience, all employees are required to wear both a mask and gloves.
If you've ever been, you also know that at Rodizio, they offer an amazing salad bar full of fresh fixings to create a delicious salad to pair with your meal. In an effort to make the salad bar accessible, while still safe; they are requiring guests to sanitize and use gloves that are provided at the entrance of the salad bar, and have situated the bar so that there are only one entrance and one exit.
Further, they are offering printed throw-away menus and digital menu options.
With beautiful indoor and outdoor patio seating available, enjoying a delicious authentic Brazilian steakhouse meal in a relaxing and elegant atmosphere is as easy and safe as ever!
4. Walk-On's Sports Bistreaux

With many nightlife destinations still closed, Walk-On's is a great way to experience that sports bar feel, with an authentic, mouthwatering Louisiana cuisine prepared fresh in a from-scratch kitchen.
If you're looking to get in on some Happy Hour action, you're in luck, because they've got a boasting happy hour, and offer specials Monday through Friday from 3:30 to 6:30 PM and from 9:00 PM to close. (Plus, you can enjoy $5 Tito's, Captain Morgan, and Jim Beam all day. everyday!) Speaking of alcohol, a special feature that Walk-On's offers is personal tabletop beer taps, so order-up your favorite brew on draft and enjoy filling it up yourself, without you or your drink ever having to leave the safety of your table.
Among many other adjustments they've made to their service in light of Covid-19, they too require employees to wear both masks and gloves that are changed periodically throughout a shift, and they have even hired employees whose sole job is to clean tabletops, seats, and high touch areas consistently.
They also offer curbside service, so you can easily carry out your scratch-made favorites, as well as alcohol to-go; so however you want to enjoy your meal, Walk-On's has you covered.
5. Pirates Adventure Dinner Show

What's dinner on I-Drive without some entertainment? The Pirates Dinner Adventure Show is family-friendly and full of excitement; whatever your age, you can't help but enjoy this cast of entertainers, acrobats, and cutthroats as they set sail on a mission full of danger and romance. Sword Fights, songs, sea monsters, and a captain's feast – it truly is a one-of-a-kind dinner show experience.
If you're ready to get back out there and enjoy a night of excitement on I-Drive with the family, this is the perfect place. In order to bring you the same exciting experience that they are so well known for, Pirates Dinner Adventure Show has made adjustments to their service to better accommodate guests during these hard times; when people need swashbuckling fun more than ever!
Tall ceilings in the auditorium, paired with seats that have all been situated 6 ft apart, as well as reduced capacity – they've ensured a socially distanced viewing experience. Beyond these and other guidelines that they are adhering to as recommended by the CDC, they are also requiring all guests to have their temperature checked upon entry, and are requiring all employees to mask and glove up during their shifts. We could all use an exciting night out, and Pirates Dinner Adventure Show is a great, safe way to do just that!
I-Drive is a foodies paradise, with a variety of cuisine from across the globe, and hundreds of dining spots to choose from; you can always find a delicious meal and unique dining experience. Although the temporary abnormal may have changed how we enjoy our dining experience – it hasn't changed our ability to enjoy a delicious dining experience on I-Drive! You can see a full line-up of dining spots on I-Drive that are now open, and enjoy peace of mind during your next meal on I-Drive!