Orlando Attractions Update – Crayola, the Forks Township crayon-maker behind such shades as Laser Lemon, Dandelion and Sunglow, will bring its colorful experience to residents of Orlando this week.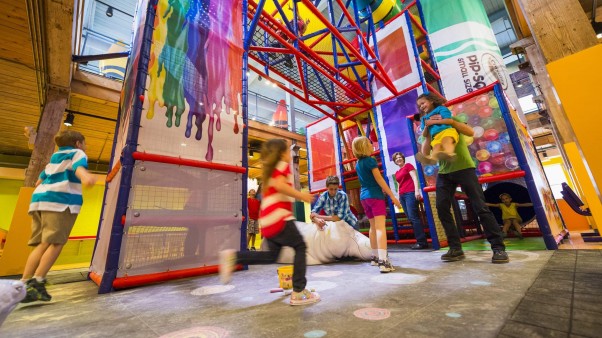 The company on Wednesday will open a Crayola Experience in a two-story, 70,000-square-foot space inside the Florida Mall in Orlando, Fla.
The new spot inserts the iconic brand into the fabric of one of Florida's top family destinations. While the Florida Mall, with almost 1.8 million square feet filled with 250 stores and restaurants, attracts 20 million visitors a year, Crayola's new space is only 11 miles away from Walt Disney World Resort and even closer to Orlando International Airport.
So, when looking at the Orlando landscape, Crayola executives are hoping for a big draw.
"It's a market that has a lot to offer in the context of entertainment and attractions, so we felt that Crayola not only has a great concept but this is obviously a great market to introduce it to," said Victoria Lozano, senior vice president and general manager of Crayola attractions and retail.
Crayola, a subsidiary of Kansas City, Mo.-based Hallmark Cards, has 1,253 employees in the Lehigh Valley. The company has hired nearly 300 people for the new Orlando attraction.
"We think it's obviously a great market, a sizable market, so we think that there's no reason why Orlando should not attract as many — if not more — visitors, but I think we'll have to wait and see how it actually works out," Lozano said.
Crayola's move outside its hometown could mark a period of growth for its popular Crayola Experience, an attraction designed to encourage creativity and technology. Spending on arts and crafts toys in America reached $940 million in 2014, up 3 percent from the previous year, according to data from The NPD Group that is posted on the Toy Industry Association's website.
While Crayola is not yet ready to disclose further information, Lozano said the company is looking at opportunities in other locations across the United States.
"We are interested in bringing the concept to kids in other parts of the country," she said.
David Brennan, a marketing professor at the University of St. Thomas in St. Paul, Minn., believes several markets could support a Crayola Experience, including the Mall of America in Minnesota. The mall, which could fit seven Yankee Stadiums inside it, attracts roughly 40 million visitors a year, according to its website.
Brennan said the mall already is home to several interactive retailers, such as Build-A-Bear Workshop, where customers can create their own stuffed animals, and American Girl, where kids can get their dolls' hair done at the Doll Hair Salon and eat in the store's on-site restaurant.
Retail blended with interactive entertainment is something experts, like Brennan, expect to increase in the years ahead.
"I think we're going to see more of it," Brennan said. "The primary thing is building a brand, building awareness."
For a company like Crayola, Brennan said, opening a Crayola Experience shows visitors there's more to a box of crayons than being just a necessary school supply for second graders. And with Crayola, a company that introduced its crayon in 1903, it's easy to connect with entire families, since seeing a historic brand like Crayola rekindles childhood memories for many adults, Brennan said.
The Crayola Experience is also a place where visitors can use the company's products in more unique ways than they would at home.
In Orlando, the attraction includes the popular "Wrap it Up," which allows children to name and wrap their own crayon, and "Be a Star," where kids can star on their own coloring page.
The new location also features a store housing the largest assortment of Crayola products in the world, Lozano said.
"It really turns into a hands-on creative experience for the entire family," she said. "And we think it's not only very appealing, as our guests are telling us, but it's a special experience for the way that families and kids interact with the Crayola brand."
CRAYOLA EXPERIENCE ORLANDO
Location: The Florida Mall, Orlando. The facility is two stories, with admissions and the Crayola store on the first floor and 25 hands-on attractions on the second floor.
Attractions: Among the attractions are "Rainbow Rain," "Color Magic" and "You Design." The location also has a Cafe Crayola.
Cost: Admission is $19.99 for everyone over age 2. The annual pass is $29.99 and can be used in Easton and Orlando. (If you purchase an annual pass online, you must receive your processed pass from the location you purchased it from. Once you have the card, you can use it at both locations.)
Hours: Crayola Experience is open daily from 10 a.m. to 8 p.m. The Crayola retail store is open until 9 p.m.