Orlando Attractions Update – Busch Gardens Tampa's highly anticipated new multidirectional spin coaster, Cobra's Curse, is officially open.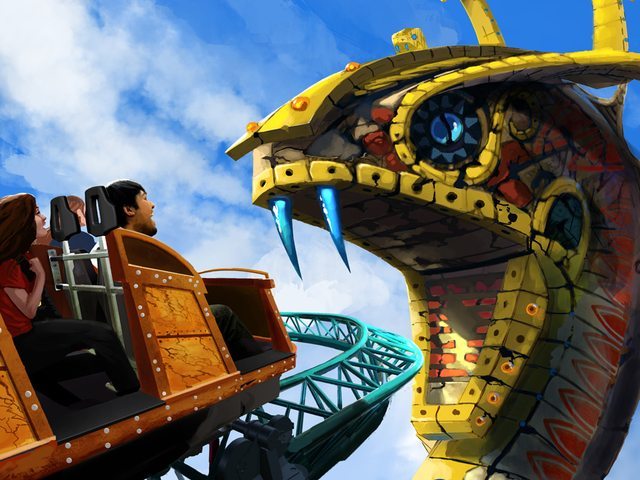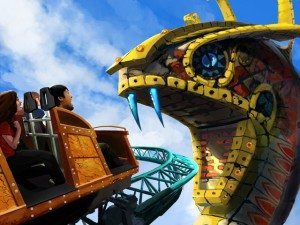 This one-of-a-kind spin coaster features a menacing 30,000-pound snake king icon and a 70-foot vertical lift takes riders within inches of its 3 foot-wide eyes and 4-foot-long fangs. During the three-and-a-half-minute ride, the Cobra's Curse coaster trains speed along at 40 mph down 2,100 feet of serpentine-like track, travelling backward, forward and then spinning freely. Guests will experience a new spin with each ride. Each train spins randomly, with frequency and direction determined by the rider weight distribution.
The ride's air-conditioned queue naturally fuels guests' adrenaline with an immersive themed experience and a state-of-the-art snake exhibit featuring four exotic snake species. Guests will observe some of the world's most feared and often misunderstood, vipers.
Riders must be 48 inches to ride, or 42 inches with a parent or guardian.
Orlando's tallest, longest, fastest rollercoaster, Mako, has already opened to guests at SeaWorld Orlando. 200 ft high Mako is one of the world's only true 'hypercoasters' which means that it makes rides feel weightless due to the amount of air time. The ride is based on the characteristics of a Mako shark, one of the ocean's fastest predators.The fifth coaster in SeaWorld Orlando's portfolio, Mako accelerates to 73 mph as it whips passengers along an imposing, nearly mile-long track. Its design was inspired by its namesake: Mako sharks — also called "blue pointers" — are known for their speed and ability to quickly change course as they pursue prey.
Also opening at SeaWorld Orlando is the all-new Shark Touch Pool where guests who have ever dreamed of touching a shark will have the opportunity to do so this summer at SeaWorld Orlando. The Relaxation Station located near Wild Artic will be home to a brand-new educational experience where guests will have the chance to learn about and interact with brownbanded bamboo sharks, whitespotted bamboo sharks and epaulette sharks.