Orlando Attractions Update – The techno boffins at Busch Gardens Tampa have revealed some of the vital statistics of their upcoming family coaster Cobra's Curse.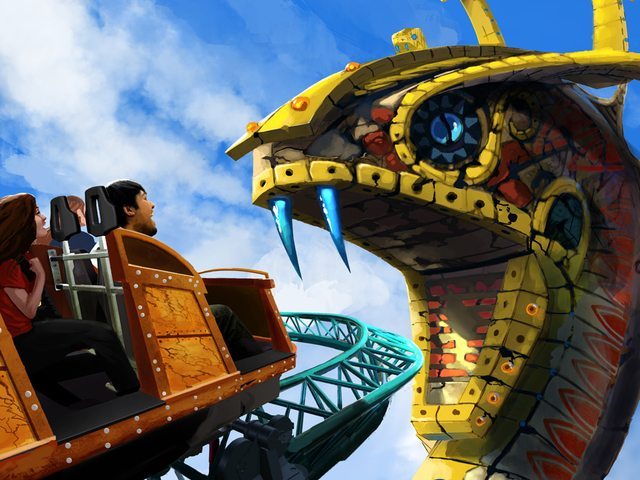 Here's the official numbers:
Maximum Speed: 40 mph
Ride Length: More than 2,100 feet of track, 70 total track segments
Ride Duration: More than three and a half minutes
Seats: Up to 8 trains at a time, with 8 riders per train
Height Requirement: 48 inches to ride alone, 42 inches with parent or guardian
Ride Experience: The Cobra's Curse ride experience unfolds in chapters: First, you will be facing forward for the first third of the ride and then be turned backwards for the second segment. Finally, for the final third of the ride, you'll free spin into frenzy.
Queue Line: The air-conditioned queue line features an exhibit with live snakes, interactive elements and projection mapping technology to tell the story of the Snake King.
Snake Icon: 30,000 lb. in weight,  80-feet tall,  Four-foot-long fangs,  Three-foot-wide eyes,  This massive structure was constructed of nine stackable pieces. It has an internal steel spine and an outer shell composed of carved foam and fiberglass.
First Vertical Lift: The first experience on this ride is a lift that is one of a kind! This vertical lift functions in a similar way to an outdoor elevator and will take riders up in their coaster car to put them face- to-fang with the 80-foot Snake King.
Second Vertical Lift: The three-and-a-half-minute ride will also feature a second inclined lift that positions riders or the free-spin finale of the ride.
Location: Egypt area of Busch Gardens® Tampa Bay
Manufacturer: MACK Rides, Waldkrich, Germany