Bring on the warm, sunny days of Spring! April is here, and if you'll be visiting Orlando, it is the perfect time to enjoy time outside on International Drive.
During your visit, this month, be sure to get in on all the action at these popular events happening on International Drive.
Mardi Gras!
That's right! March may be all about Mardi Gras, but if you didn't make it out to any of the festivities in March, some of the Mardi Gras festivities on I-Drive are still going on this month!
Universal Orlando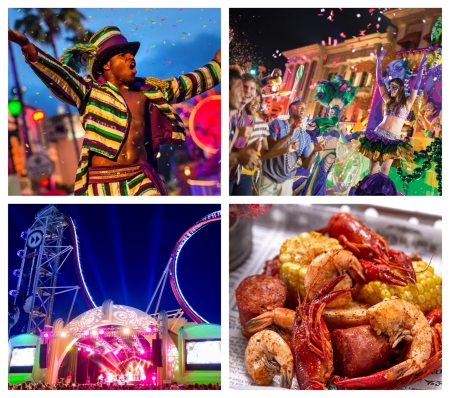 Universal Orlando's Mardi Gras event will be going on through April 24th, and is a can't-miss event if you're looking for the perfect place to let loose!
Colorful beads, lively parades, amazing concerts, and authentic New Orleans cuisine alongside various dishes inspired by diverse tastes and flavors around the world come together in true Universal Studios fashion to bring you Florida's Biggest Party of the year!
If you're on I-Drive this month, don't miss the loudest, wildest blowout this side of the Bayou at Universal Orlando's Mardi Gras!
Fun Spot America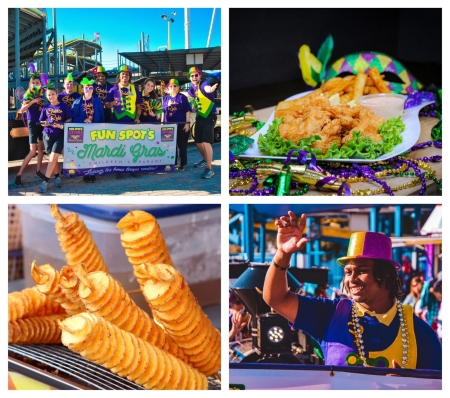 Get jazzed up for Mardi Gras festivities at one of Orlando's favorite family attractions, Fun Spot America! Through April 24th head to Fun Spot America to enjoy their HUGE Mardi Gras celebration, complete with mouthwatering Bayou Bites, Nawlins Spirits, family-friendly parades every Saturday and more! Enjoy strolling through this outdoor park and hitting all of your favorite rides and attractions as you feel the spirit of New Orleans, from the decorations around the park to the colorful beads flying through the air, and the smell of something delicious bellowing through the air.
Another event taking place in Fun Spot America this April is their Night of Gold event happening on April 30th! This Christian event features live music, food, faith, and fellowship for a night in Orlando to remember! Get the details here.
SeaWorld Orlando's Seven Seas Food Festival & Mardi Gras Celebration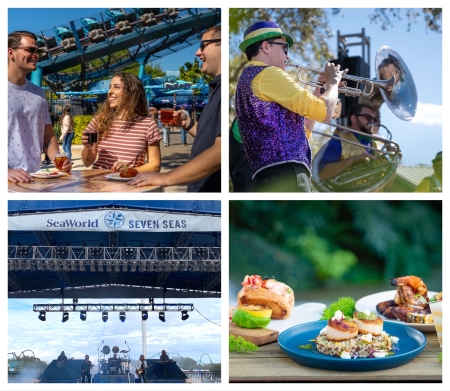 If you're looking for a delicious way to spend a long weekend in Orlando, SeaWorld is the place to be this April! Their popular Seven Seas Food Festival is in full effect through May 8th, 2022, and as you sip and savor your way around the globe at one of the most inspiring theme parks in Orlando, you'll quickly see why this annual event is a fan favorite.
Set sail on a taste adventure where you'll be met with oceans of flavor and fun! Explore over 50 fresh global cuisine choices to pair with over 75 wine and cocktail selections, and 75 craft beers too! But, what's a SeaWorld celebration without live music? Catch live performances this month by headliners like Lindsey Stirling, Gabby Barrett, Mike Donehey, Flo Rida, Boys II Men, and more!
During your visit, be sure to stop by the Gulf Coast Market to enjoy some authentic New Orleans-inspired cuisine in the name of Mardi Gras! Here you'll find Gulf Gumbo, a New Orleans classic with shrimp, sausage, and Cajun broth; Bourbon BBQ Smoked Pork Po' Boys; traditional Beignets, and drool-worthy rum glazed bananas foster beignets! You just won't find the authentic flavor of New Orleans like this anywhere else in the sunshine state.
Another upcoming event happening at SeaWorld Orlando that you'll want to keep your eye out for this April is their annual Cinco de Mayo celebration, kicking off on April 29th!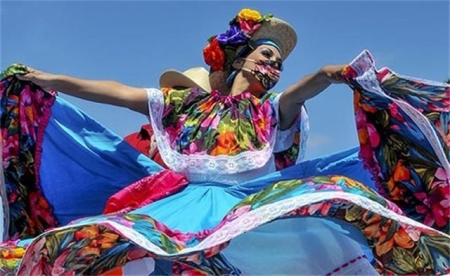 Enjoy a fiesta in the street at the Wild Arctic Plaza as it comes to life with entertainers, stilt walkers, and party starters to get a full-blown fiesta fired up. Get your feet moving to the sound of the DJ spinning both new and old bears throughout the day during this fun-filled party, and of course, immerse yourself in the traditional sounds of Mexico as classic bands bring their beautiful and bold sounds to Orlando! And keep fueling the fun with Mexican flavors that will take your taste buds on a trip South with mini churro bites, drunken shrimp tostadas, beef barbacoa tacos, and refreshing beer and cocktails to wash it all down.
Don't miss the fiesta, get the details and plan your trip to SeaWorld this April today!
Live Entertainment

A trip to International Drive isn't complete without live entertainment, and this April you'll find plenty of live entertainment to choose from!
Orlando Improv
A local favorite dinner show spot, the Orlando Improv Comedy Theater is known for welcoming the biggest names in stage to Orlando, as well as support local talent around Central Florida.
If you're looking for a delicious meal and some belly laughs, check out these headliners hitting the stage this April:
April 20th – Eric D'Alessandro
April 22 – 24th – Damon Wayans
April 29th – Michael Colyar
Also happening this month is their Open Mic Nights! This event is happening on the restaurant stage at Fat Fish Blue and not only is everyone welcome, but it is FREE! Whether you're a professional comedian looking to try out new material, are new to stand-up comedy, or simply want to come out and watch, Open Mic Night is sure to be a good time! Get the details here.
Coliseum of Rock 'n Roll
As always, Hard Rock Live is hosting some of the biggest names in music and comedy and this month is no different. If you're looking to catch an unforgettable show in Orlando this year, check out these headliners taking the stage:
April 25th – Testament: The Bay Strikes Back Tour with Exodus & Death Angel
April 27th – I Want My Old School
April 28th – Counting Crows: Butter Miracle Tour
April 29th – The Story So Far With Joyce Manor, Mom Jeans & Microwave
This April is the perfect time to hop into good times on I-Drive! Stay informed on all of the exciting events happening on I-Drive, and start making plans for your most memorable visit to Orlando's Most Dynamic Neighborhood yet!