If you're heading out for an exciting day of fun in the sun on I-Drive this weekend, you've got to properly fuel up for the day. Luckily, Brunch on I-Drive is the most important meal of the day! (Especially when it tastes this good.)
Get fueled up for a day of non-stop fun with fresh and delicious food at these favorite I-Drive brunch spots offering special weekend brunch menus, every weekend!
The Hampton Social

The Hampton Social is new to Orlando, and calls the beautiful entertainment complex Pointe Orlando home!
This large restaurant space includes a modern yet inviting interior dining room, as well as an expansive outdoor patio seating area, and a full, private dining room if you're celebrating something special at brunch! The atmosphere you'll find here makes it the perfect place to enjoy the feeling of summer days, complete with exceptional food, cocktails, and live music! It's the newest place for Brunch on I-Drive.
Every weekend they whip up brunch favorites to fuel your day of fun, as well as special brunch cocktails that are sure to set the pace for an amazing day!
Whether it's breakfast or lunch that you're craving, enjoy selecting a delicious entree from their brunch menu, like a breakfast burrito, wild berry french toast, Grandma Swan's pancakes, traditional egg and bacon breakfast platters, and sandwiches, just to name a few. If it's lunch you're craving, they also have options like lobster rolls, Scottish salmon, shrimp tacos, a smash burger, and even a delicious fried chicken sandwich.
Wash down that delicious meal with out-of-this-world brunch cocktails, ranging from spiked coffee, bloody mary, a Montauk mule, a variety of mimosas, and of course, the Frose options! *They are best known for their Frose which has Tito's handmade vodka, rose wine, and peach puree.*
Get more information about brunching it at The Hampton Social this weekend.
AfroBrunch at Bronze Kingdom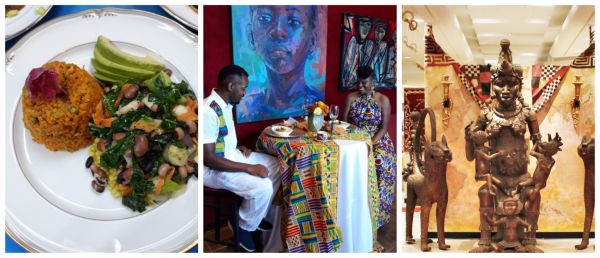 Brunch on I-Drive has never been more of an experience! The Bronze Kingdom is an art museum with an extensive gallery that represents an important spectrum of African bronze, beaded, and wood sculptures from all over the continent! And if that wasn't enough, their Serengeti Restaurant and Bar is on-site serving up exquisite, authentic African epicurean cuisine. Enjoy dishes from all over the continent prepared by Executive Chef Fitz Campbel and Executive Sous Chef Linda Kong, as well as award-winning Party Chef Dionna Hurt!
What's better? They offer brunch every Saturday, so you can kick start your day of fun with amazing art, and a delicious meal! With a full buffet full of breakfast and lunch favorites and bottomless mimosas and sangria, all enjoyed tunes played by one of the best AfroBeat DJs in Orlando!
Let's just say, the entire experience is a vibe, and definitely worth seeing during your visit to I-Drive!
Get the details, and be sure to make reservations in advance for this spectacular brunch experience!
Tapa Toro Orlando

Any day that starts with delicious authentic Spanish cuisine, and Flamenco dancing… is a good day!
Tapa Toro Orlando is located in the popular entertainment complex ICON Park, which means you're not far from world-class attractions, and exciting experiences after you've finished fueling up!
Every Sunday from 11 am to 3 pm, enjoy a brunch menu featuring dishes like Baguette A La Madrid, Tapa Chicken and Churros, Churrasco Steak & Eggs, Barcelona Omelette Ole, all-you-can-eat paella, and more, in addition to their full menu which is also available during this time.
A fiesta of brunch flavors, alongside a DJ, live flamenco dancing entertainment, and unlimited mimosas and sangria – there's no doubt that you'll be dancing your way into an unforgettable day on I-Drive after your Sunday brunch here!
The Pub Orlando – A British inspired Brunch

Known for their award-winning fish and chips, and for paving the way for pour-your-own-beer walls in Orlando, The Pub Orlando knows British cuisine, and has put together a special brunch menu for guests to enjoy every Saturday and Sunday from 10:30 am to 3 pm.
Aside from a traditional American and British breakfast platter to choose from, they also offer drool-worthy pub favorites like: 'The Cure' Sandwich that features a pretzel bun topped with fried eggs, bacon/ham, Belhaven beer cheese, tabasco onion straws, and roasted potatoes, a British Skillet piled high with bangers, mushrooms, tomatoes, cheddar cheese, roasted potatoes, and house-made sausage gravy, and even a 'Hold the Hangover Bowl' with scrambled eggs, a biscuit, cheddar cheese, chopped bacon, and sausage gravy with roasted potatoes, among various other breakfast favorites ranging from chicken and waffles to traditional eggs benedict. There is no doubt you'll find just the flavor you're looking for with a British flair, right here in the heart of Orlando!
Get more details about their special brunch offers, and plan to take your tastebuds on a trip during your next brunch on I-Drive!
Cafe Tu Tu Tango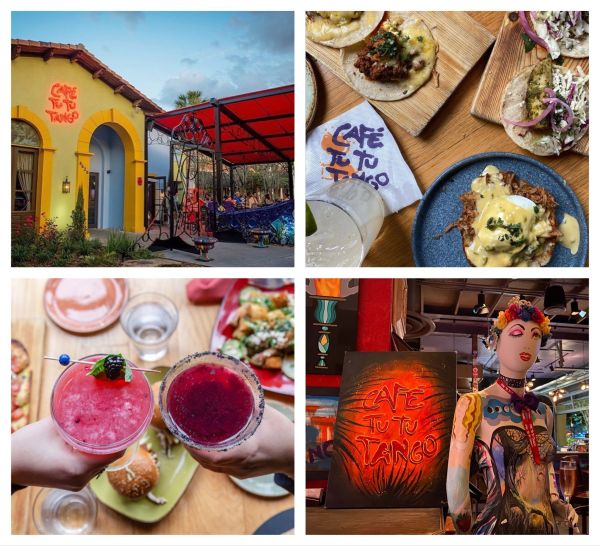 Cafe Tu Tu Tango, where sharing is caring.
This multi-cultural eatery transports guests to a wild artist's loft in Barcelona, Spain; whereas you might guess, a party is always in progress! As you top your bottomless mimosas and bloody mary's from their array of fresh fixings, take a stroll around to peek at various art from local artists!
Selecting items from their eclectic, appetizer-style menu is tough, but bring your whole crew and enjoy tasting various flavors from the menu; after all, these spectacular dishes were created with sharing in mind.
Just some of their Tango favorites include; Monkey Bread with golden raisins and pecans, Breakfast Tacos with jalapeno jack cheese, huevos rancheros, and crumbled beef, Cuban Style Pulled Pork Benedict, Shrimp and Grits, and Guava and Sweet Plantain Bread Pudding with Nutella sauce.
Finding the perfect brunch spot to kick start a day of endless fun on I-Drive is easy… choosing just one to try during your visit, is a little more difficult!
See a full lineup of weekend brunches available on I-Drive and plan to fuel up with fresh flavors, in a fun and unique experience during your next brunch in Orlando's most dynamic neighborhood.