There's nothing quite like watching a rocket blast off into space, and one of the best places to see that is right here, on Florida's Space Coast!
Since the first rocket launched from Cape Canaveral in July 1950, the Space Coast has been a hub of space activity and a place people gather to witness history while looking to the future. So much has changed since the day that first rocket launched, but one thing remains the same: the Space Coast is still the place to catch a glimpse of awe-inspiring engineering and enjoy the sun and surf while you're here.

What Kinds of Rockets Take Off From the Space Coast?
NASA has long enjoyed a stronghold of space exploration in the United States, however, now commercial companies are largely responsible for the launch activity here on the Space Coast. Companies like SpaceX and United Launch Alliance are continually testing the limits of what's possible and, on average, send up a few rockets for various communications and defense programs every month.
When NASA teams up with these commercial entities, history is made. Recently NASA and SpaceX ushered in a new era of human spaceflight to the United States. Later in the summer of 2020, ULA and NASA will send the newest Mars Rover to the red planet from Cape Canaveral to further explore our planetary neighbor.
With more commercial businesses making their way into extraterrestrial travel and exploration, the sky isn't close to the limit of what's possible on the Space Coast.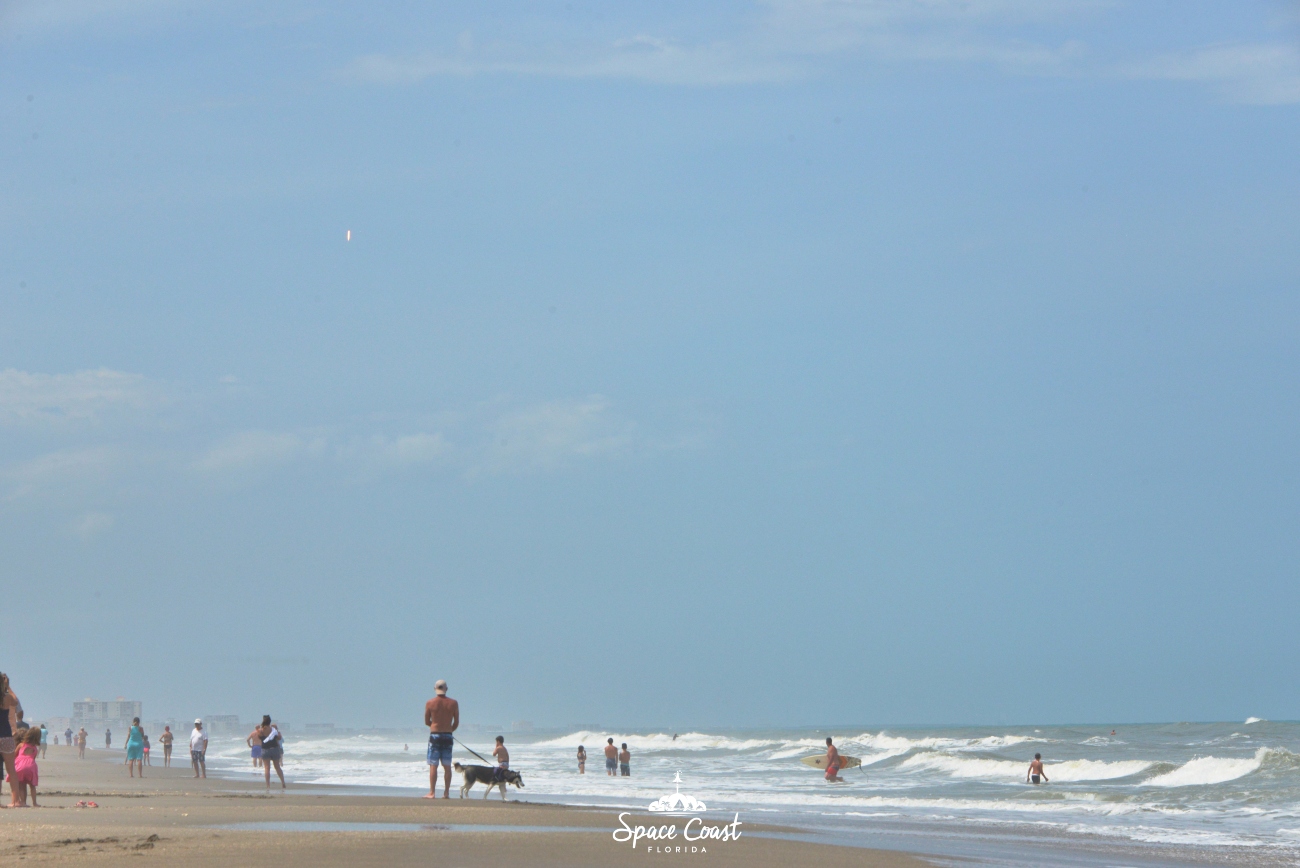 Where Can I Watch a Rocket Launch From Florida's Space Coast?
Anywhere on the Space Coast is a great place to watch a rocket launch, but of course, there are a few prime viewing locations. Here are a few great places to catch the blast off from the Space Coast.
Kennedy Space Center Visitor Complex
Kennedy Space Center Visitor Complex offers the closest public viewing of launches. Launch viewing opportunities are available at the Apollo/Saturn V Center and the main visitor complex with bleacher seating and launch commentary, under normal circumstances* However just watching a launch from the grounds is an amazing experience, and you'll get to explore the complex before and after the rocket takes off.
*Due to COVID-19, launch viewing experiences may not be available at the time of your visit. Please check with the Kennedy Space Center Visitor Complex to learn more.
Titusville
Titusville is the closest city to the Kennedy Space Center Launch Complex and a great place to watch a launch and explore a unique town. With public parks dedicated to space exploration of the past and lagoon-side restaurants, there are plenty of beautiful spaces to watch a launch and explore Titusville! Check out this blog for detailed information on top Titusville viewing locations!
The Beach
Any Space Coast beach is a beach worth seeing a launch at. Rockets are visible from the Canaveral National Seashore to Sebastian Inlet State Park. When you pair your rocket launch with a day at the beach, you'll be able to truly enjoy what makes the Space Coast special! Often parking along the beaches of the Space Coast is readily available; however, for historic launches, the volume of crowds does translate into limited parking at beachfront parks. Make sure you take that into consideration when planning your stay, and perhaps lock in your parking situation by reserving a beachfront hotel for your launch viewing pleasure.
The Lagoon
For another, adventurous way to experience a launch on the Space Coast, hop on a rocket launch eco-tour or rent a kayak to see a launch from the Indian River Lagoon. It's an active and exciting way to experience space exploration while also learning a bit about the diverse ecosystems that make up the Space Coast. It's also a great opportunity to meet a manatee or dolphin while you're here!
When is the Next Launch from Florida's Space Coast?
Since players like SpaceX and ULA have joined NASA at the Kennedy Space Center, the Space Coast enjoys several launches each month. Check out SpaceCoastLaunches.com to learn when the next launch is scheduled so you can best plan your Space Coast Vacation. Or you can download the LaunchConsole App for updates, reminders, and live streams of every Space Coast Launch so you don't miss a single one, no matter where you are.
If you're looking to cross "watch a rocket launch" off your bucket list, start planning your trip to the Space Coast. With more launches happening than ever before, your dreams of seeing space flight in action are just a drive down the Beachline away! Blast off from the Space Coast to an unforgettable vacation.