It's time to get into the Holiday spirit this year with plenty of fun, family-friendly events going on around West Volusia County, only an hour's drive from Orlando! From the illustrious Stetson Mansion's Christmas Spectacular to sidewalk sales and special holiday markets in Downtown DeLand, you'll find West Volusia a very cheery place to jingle all the way to.
Stetson Mansion Christmas Spectacular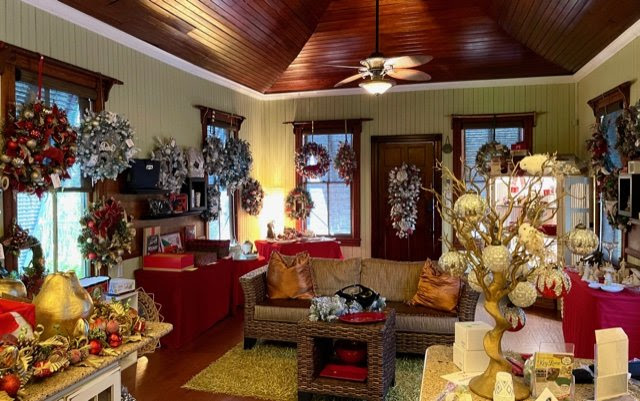 Present – January 22, 2022
Start your countdown to Christmas with an activity that is both merry and bright! Experience the magic and awe of Stetson Mansion's Christmas Spectacular with their new self-guided tours. On your tour, you will travel through rooms on the ground floor and bedrooms on the second floor, as well as the original School House, now converted to a guest cottage. Each year during this enchanting event, 10 rooms are embellished with stunning designer decorations and 24 nativities from around the world. The Stetson Mansion is the largest and most spectacular "Gilded Age" residence built in Florida before 1900, and it's Christmas decorations are a Central Florida holiday tradition you won't want to miss!
Winter Wonder DeLand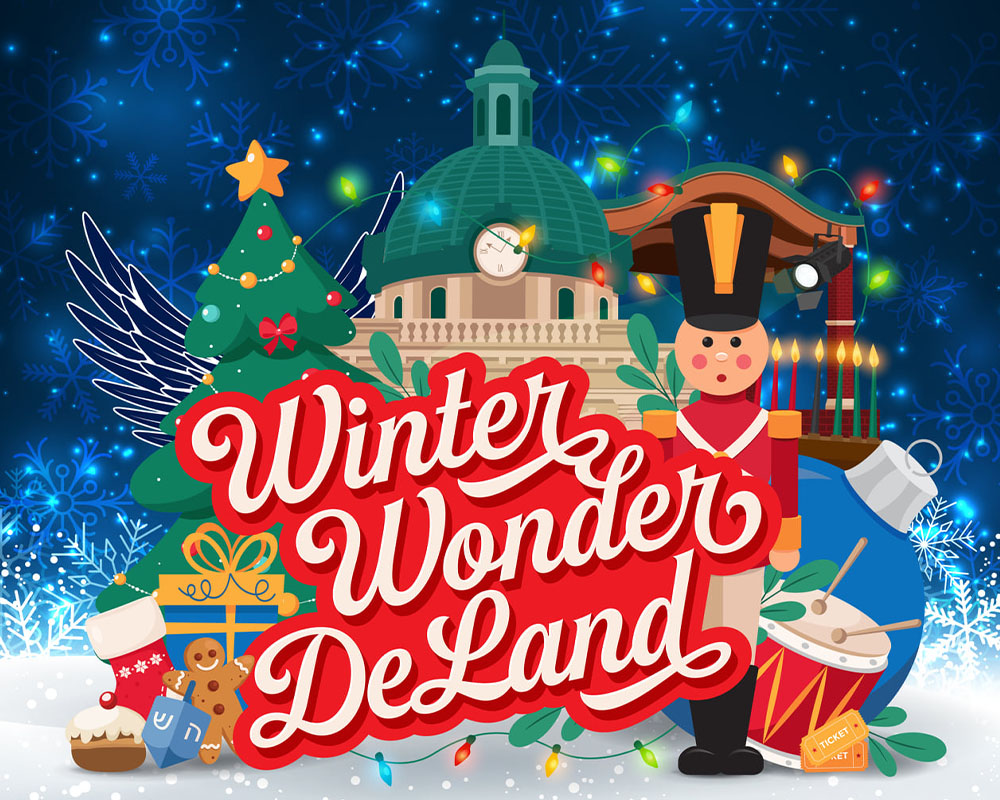 December 3, 2021 – January 2, 2022
It's time to give Winter a warm Florida welcome in DeLand! As you finish up your shopping and spend time with family and friends this holiday season, stroll the streets of downtown and explore the holiday magic that is Winter Wonder DeLand. Lights and decorations will adorn Downtown DeLand in Chess Park, Pioneer Park, Indiana Avenue, Georgia Avenue, and sections of Earl Brown Park. Kick-off the festivities on December 3rd at DeLand City Hall and in Pioneer Park, where you can watch the annual lighting of the Christmas tree and MainStreet DeLand's holiday wreath. As you shop and be merry, be sure to say hello to the famous toy soldiers patrolling the boulevard. For even more festive fun, on December 10th, nearby Earl Brown Park will transform into a winter wonderland complete with festive treats, holiday scenes, and market tables.
Lake Helen Christmas Home Tour
December 4-5 | 12:30-5:30pm
There's no better way to experience the Christmas magic of Lake Helen than through the homes that make it such a special place. This year, take part in the two-decades-long tradition of the self-guided Lake Helen Christmas Home Tour. This year, admire the cheerful decor of carefully curated homes and gardens of the historic district and surrounding areas. Begin your Christmas Home Tour at the historic Hopkins Hall, where you'll pick up your tickets and have the opportunity to participate in raffles and enjoy refreshments. Then, head outdoors to the beautiful tree-lined streets and wander among the wonders of participating homes, gardens, municipal buildings, and churches.
DeLand Indie Market Holiday Edition
December 5 | 11am-5pm
The DeLand Indie Market Holiday Edition is here just in time for your gift-giving needs! Shop local for the holidays this year with a wide assortment of over 70 hand-selected vendors. As you stroll through Artisan Alley in Downtown DeLand, choose your favorite local gifts and tasty eats! This is the perfect opportunity to stuff your stockings with unique, local goods this year. While you shop, enjoy the sounds of live music and the holiday cheer of your community.
"The Littlest Reindeer"
December 10 – 7:30pm | December 11 – 2:30pm and 7:30pm
Discover the journey of Dot, the littlest reindeer in the North Pole, this holiday season at the Gateway Center for the Arts in DeBary. Although Dot is small, she has big dreams to help Santa pull his sleigh. She can't seem to take flight, no matter how hard she runs, leaps, and kicks. Will Dot learn to fly this holiday season? See for yourself on December 10th or 11th.
DeLand Christmas Boat Parade
December 11 | 6pm
Forget the chimney! In DeLand, Santa arrives by boat. Don't miss out on the unique and fun tradition of the 56th annual DeLand Christmas Boat Parade, which began in the 1920s. Experience the twinkle and magic of the parade of boats as they light up the night with Christmas cheer. This year, the boats will be setting course from Lake Beresford to Whitehair Bridge. After the parade, winners will be crowned during the awards ceremony, followed by an afterparty.
A Florida Christmas Remembered
December 11 | 9am-4pm
This holiday season, jingle all the way to the Christmas festivities at Barberville Pioneer Settlement. Little ones have the opportunity to participate in make and take crafts and meet Santa and Mrs. Claus themselves. Visitors can also observe the numerous artisan demonstrations featuring historical crafts like woodworking, blacksmithing, weaving, and more. Don't miss out on the opportunity to shop for Christmas gifts among the arts and crafts vendors or in the Bridgehouse Gallery. While you browse, listen to the joyous sounds of original and traditional Christmas music by folk artists.
"Elf the Musical"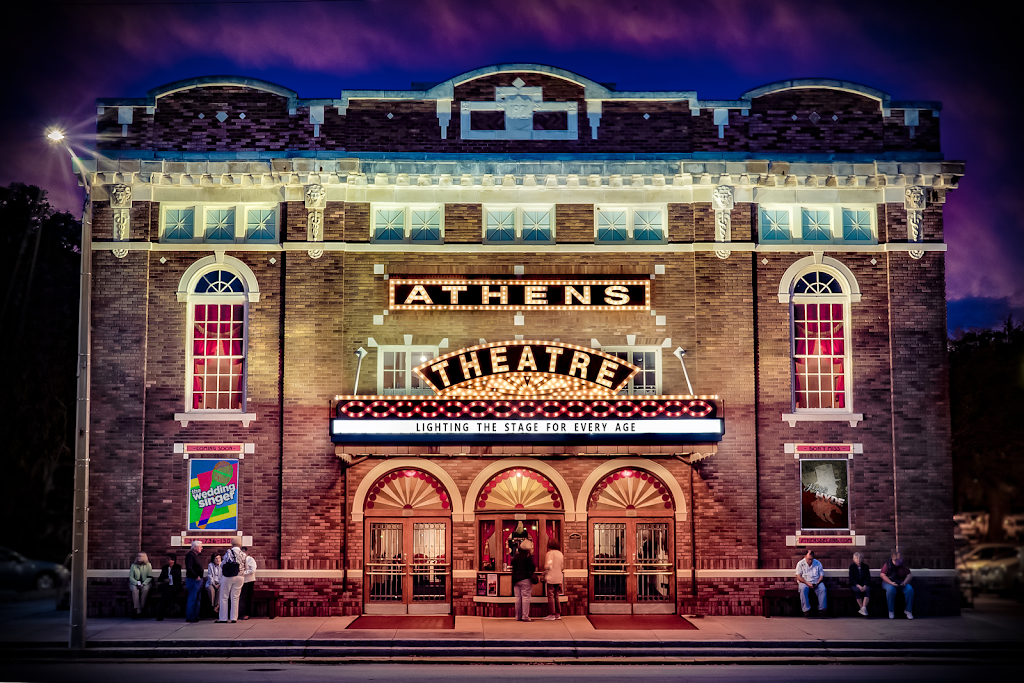 Present – December 19
Jumpstart your holiday cheer this year as you join Buddy the Elf on his quest to find his family just in time for Christmas. This seasonal celebration will warm the hearts of people of all ages. Gather your friends and family and sit back and relax at the Athens Theatre. Don't miss out on the chance to enjoy this Christmas favorite!
Asian Lantern Festival: Into the Wild
Present – January 16th | 6 pm – 10 pm
Bring the whole family out to uncover the wonder and tradition of the Asian Lantern Festival at the Central Florida Zoo & Botanical Gardens. As you walk the 3⁄4 mile path, you will see 30 hand-constructed, illuminated lanterns depicting animals, plants, and traditional Chinese elements. Browse local food and beverage options, listen to live music, and discover authentic Asian crafts.
More information on West Volusia County can be picked up at the Visitor Center located at 116 W. New York Avenue in Downtown DeLand, FL, or can be found online at www.visitwestvolusia.com. Please call 386-734-0162 for more information.