Craving an escape from winter weather? Head to Daytona Beach for a range of holiday events and holiday spectaculars. Whether you are in the mood for the dreamlike experience of Christmas lights, a celebration that takes a step back in time, or a jolly holiday parade, plenty of fun Christmas activities await in Daytona Beach! And with other Florida holiday experiences, such as Nights of Lights in St. Augustine and the fun spectacle of Surfing Santas in Cocoa Beach, so close (less than an hour drive) there's even more reason to head to the beach and celebrate Christmas in Daytona Beach. Consider any one of these events to put you in the holiday spirit:
Magic of Lights® Holiday Display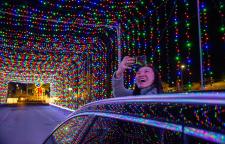 The iconic Daytona International Speedway transforms into holiday heaven during the Magic of Lights® Holiday Display. It's the perfect way to celebrate Christmas in Daytona Beach. Take the family and drive through the 1.5-mile display, which features over a million of the latest in LED bulbs and all-new digital animation technologies that have been specially created for the "World Center of Racing." For more information on ticket pricing for this drive-thru experience, visit the website. The event takes place daily from November 19 through January 1. from 6 to 10 p.m. Double Drive Tuesdays, Dash Passes, Photo Package, and limo/bus upgrades are available.
Venue: Daytona International Speedway (at the intersection of International Speedway and Bill France Boulevards)
Address: 1801 West International Speedway Boulevard, Daytona Beach, FL 32114
Stetson Mansion Christmas Spectacular Holiday Home Tour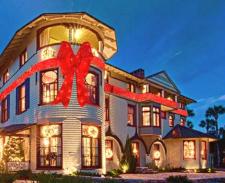 The Stetson Mansion Christmas Spectacular Holiday Home Tour takes place at "Florida's first luxury estate," the famed Victorian Gilded Age residence built in 1886. Its original, rich architectural details make the perfect backdrop for elaborate holiday decorations, which are different each year. Designer decorations from around the world will adorn the mansion and each of the ten rooms. Come and experience how Stetson Mansion has decked the halls on one of these enchanting self-guided ours, offered four to six times per day through January 22. Reservations are required. Group guided tours are available with advanced reservations (20-24 people), visit the website for more information.
Venue: Stetson Mansion
Address: 1031 Camphor Lane, DeLand, FL 32720
ENJOY A CHRISTMAS SPECTACULAR TOUR IN THIS STETSON MANSION VIDEO!
Daytona Beach Boat Parade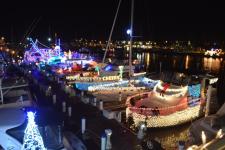 Holiday cheer gets a nautical twist at the Daytona Beach Boat Parade, a favorite local tradition that's back for another year on Saturday, December 4, at 6 p.m. Boats will be extravagantly decked out with twinkling lights and holiday décor to cruise the Halifax River, and you can experience the magic free of charge. Viewers post up watch along bridges, causeways and river shorelines, and it all culminates at Halifax River Yacht Club in downtown Daytona Beach.
Venue: on the Halifax River from Seabreeze Bridge south to Halifax River Yacht Club
Address: 331 South Beach Street, Daytona Beach, FL 32114
Admission: FREE
Gingerbread Fantasy Holiday Light Display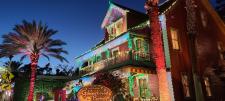 This holiday season, Rose Villa Southern Table and Bar will transform into a Gingerbread Fantasy decorative light display that evokes classic storybook memories in exquisite style. From November 19, 2021, through January 9, 2022, visitors can stop to take a family photo or a fun selfie outside of in this historic setting in downtown Ormond Beach. During Gingerbread Fantasy, the restaurant will be decorated with larger-than-life Gingerbread men, towering lollipops, unique topiary snowmen, the "dogs of Rose Villa," stain glass windows reflecting gingerbread men, gold bells, candy canes, and candied fruit, and of course hundreds of colorful lights reaching from the ground to the top of the two and a half story rooftop. For an extra special holiday activity, Rose Villa will offer a hands-on experience building your own gingerbread house. This confection-based activity is offered daily from 10 a.m. – noon. Cost starts at $99 and reservations are required. It's a beautiful way to celebrate Christmas in Daytona Beach.
Address: 43 West Granada Boulevard, Ormond Beach, FL 32176
Venue: Rose Villa Southern Table restaurant
Price: Free Holiday Light Display; Gingerbread House building experience starts at $99, reservations required
Holiday Story Stroll in Rockefeller Gardens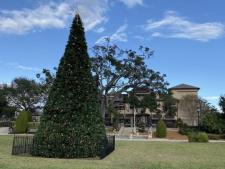 Visit the giant pages of a classic holiday book set up around the Christmas tree in beautiful Rockefeller Gardens at The Casements in Ormond Beach. A collaboration of the City of Ormond Beach, Volusia County Public Library, and Ormond Beach MainStreet, the Holiday Story Stroll will be open Dec. 4-30, 2021. More information about this free, family-friendly event is available by calling Ormond Main Street 386-492-2938 or The Casements 386-676-3216.
Address: 25 Riverside Drive, Ormond Beach FL 32176
Venue: Rockefeller Gardens at The Casements
Admission: Free
Check out this blog post for more holiday getaway ideas and the full list of festive holiday activities and fun. No matter what one you choose, a winter getaway is sure to put your whole family in a sunny, spirited state of mind.
Enjoy a look at all the ways to celebrate Christmas in Daytona Beach. Start planning your next trip! Download the free official vacation guide HERE.