Every kid wants to throw the coolest party that all their friends talk about for months after it happens. A fun location or cool experience can turn a normal birthday into an unforgettable experience. Altitude Kissimmee is quickly becoming one of the top places in the area to have a birthday party. Kids can jump, run around, and play games that match their skill levels. Younger kids can grow more confident at bounces while older tweens and teens challenge each other to dodgeball or the tumble track.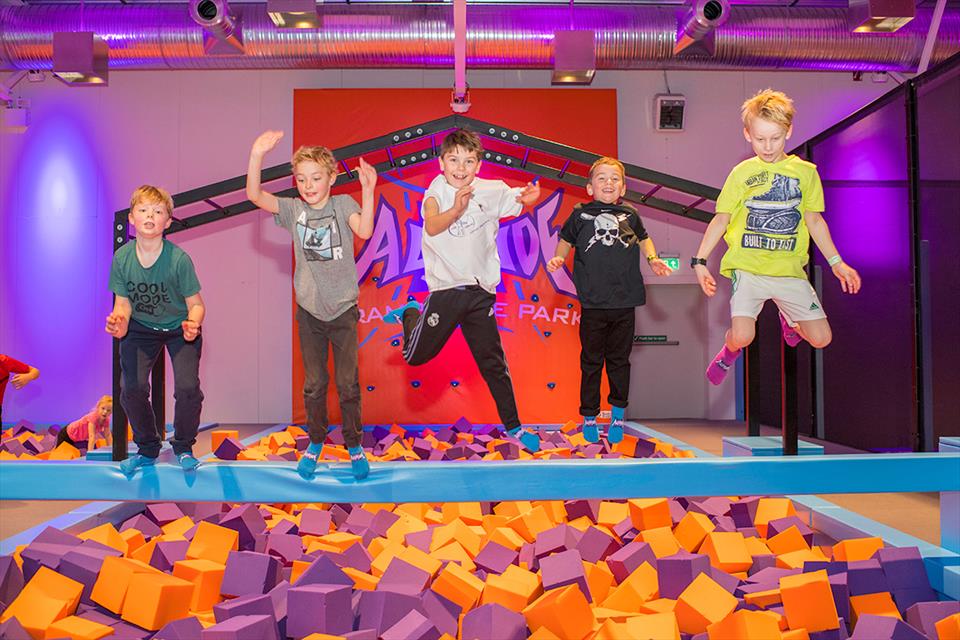 You can combine almost any great party theme with a day at Altitude Kissimmee. Here are a few party themes that are fun for kids and easy to run with.
1. Incredible Superheroes
Superheroes capture the imagination of kids and adults alike. Some kids love Spiderman and pretend they can crawl up walls. Other kids want to fly like Superman or have technology like Ironman. Altitude Kissimmee is the best place to have a superhero-themed party. Kids can create games across the various courses available. They can act out dramatic falls on the stunt bag or pretend to chase bad guys in the ropes course. It's a great place to use their imaginations.
Of course, super kids need super snacks. When you book a party with Altitude Kissimmee, kids can take a break from jumping to enjoy pizza and cake before heading back to take down the evil villains.
2. Eat, Sleep, Fortnite, Repeat
Some kids would spend their entire weekends playing Fortnite if you let them. They spend hours building worlds and exploring the game with their friends. However, a birthday is a time to step away from the computer screen for a while.
With a party at Altitude Kissimmee, kids can combine their love of Fortnite with the physical activity that you want them to try. There are many Fortnite party kits online with games and other decorations. Kids can even have their own Battle Royale on the dodgeball courts or in trampoline basketball. If your kids love Fortnite, they will also love the Valo Jump virtual reality system, where they get to enter an online world with the help of a trampoline.
3. TikTok Parties
When kids aren't playing Fortnite or Among Us, they are usually scrolling through TikTok. There are countless new dances to try and activities to explore. Spend some time with your child watching the latest TikTok trends and then put together a list for the party. At different points during the birthday, call out a dance or reference a video and challenge kids to bust out their best moves.
There are TikTok theme decorations on Amazon and at Walmart to guide your planning. This party also gives you the added benefit of embarrassing your kids by showing how great your moves are.
4. Rainbow and Unicorn Everything
Rainbows and unicorns – they are such a perfect pair! If your kid is obsessed with unicorns, make them the center of the party. This is a fun and easy party theme for your kids. Ask guests to arrive either in rainbow colors or in their favorite color, that way you have a bright party of kids that you are easily able to keep an eye on. Kids can wear unicorn horns and make up the special powers that unicorns have or share with others. Give kids space to let their imaginations run wild and watch what comes of it.
5. Safari Party
Do your kids love animals? Almost every child has a favorite animal or at least a few that they love. Fortunately, you don't have to go to the zoo in order to have an animal-themed birthday. You can have a safari indoors at Altitude Kissimmee. Kids can dress up as their favorite animals while you are the safari leader. Kids can jump like kangaroos on the various trampolines or climb like monkeys on the netting. Are there polar bears in Florida? There might be with a safari-themed birthday at Altitude Kissimmee.
The possibilities are endless for kids who want to have their birthday at Altitude Kissimmee. They can choose almost any theme and tie it to the activities or games available at this trampoline park. Book your next party today and give your child an unforgettable epic event.