As we bid farewell to 2021, we look ahead to a new year on International Drive, and there's a lot to look forward to! Let's check out what's new in 2022 on I-Drive.
For the Foodies
Brother Jimmy's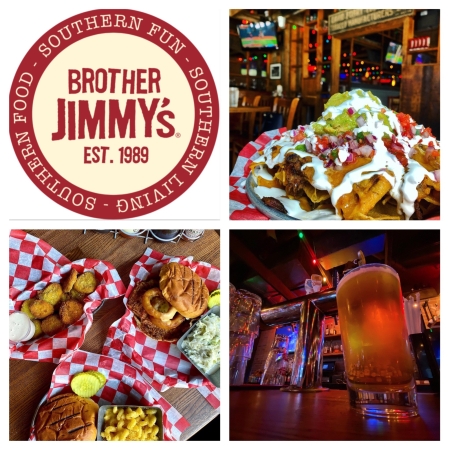 You're going to want to roll your sleeves up for this one! This famous New York restaurant will be taking to ICON Park and will be bringing with it classic southern comfort cuisine and finger-licking good North Carolina BBQ!
With over 25 years of experience in slow-smoking barbecue, the slogan, "Put Some South in Yo' Mouth", and a menu full of your BBQ favorites; this is going to be a must-stop dining destination during your next visit to International Drive.
Vineland Pointe

Whether a trip to Orlando always includes a day of shopping at one of Orlando's favorite outlet malls, Vineland Pointe, or you're simply hopping around I-Drive, you'll notice a few new destinations during your trip in 2022!
Enjoy a delicious chicken sandwich with a side of heaven-sent waffle fries from Chick-fil-A, newly opened at Vineland Pointe.
Craving a burger to fuel up for a day of fun? Shake Shack also opened its doors at Vineland Pointe in 2021, and offers the first-ever Shake Shack with a drive-through, so enjoying a quick bite while you're out and about is easier than ever.
And if you're looking to indulge in an ice-cold draft beer, some down-right delicious American cuisine, and want to catch a game or two during your day out, Walk-On's Sports Bistreaux has also officially opened their doors at Vineland Pointe. A sports bar started by two athletes themselves, with their first store opening in LSU's Tiger Stadium, and pour-your-own draft beer at their tables, it is sure to be a one-of-a-kind sports bar dining experience.
But be sure to save room for a fresh-baked sweet treat, the new Crumbl Cookies at Vineland Pointe is sure to end your day out on a sweet note.
Need groceries before heading back home for the day? Hit the newly opened Aldi at Vineland Pointe for high-quality groceries and produce at a great price! Because when you're on I-Drive, you can have a great day and get your errands done without straying too far from the action.
Or maybe you're not going home at all? Maybe your visit to I-Drive is just getting started.
Coming in 2022 to Vineland Pointe is a new dining and entertainment destination called Pinstripes; a bowling, bocce, and bistro venue where you're sure to find good grub, good games, and an all-around good time!
Order up something delicious from their bistro that features freshly prepared entrees, and then get your game on with a round of Bocce or Bowling. At Pinstripes, there's always enough scratch-made food and hand-crafted cocktails to go around.
Learn more about Pinstripes coming to I-Drive in 2022.
For the Thrill Seekers

Already have a trip to SeaWorld Orlando planned for the new year? Be sure to keep your eyes peeled for these exciting new attractions coming to SeaWorld in 2022!
Ice Breaker, a new multi-directional launch coaster boasting a 93' tall spike with a 100-degree angle is scheduled to open at SeaWorld Orlando in February and is sure to help you #BreakTheIce on your Orlando vacation!
Seaworld's water park, Aquatica will also be welcoming a new attraction in 2022 called Reef Plunge. This 330' fiberglass water slide will send riders zooming past a vibrant array of marine life, including Cummerson's dolphins, leopard sharks, sardines, and a variety of other cold-water fish. Experience thrills alongside these amazing marine animals for a one-of-a-kind experience you can only find in Orlando!
ICON Park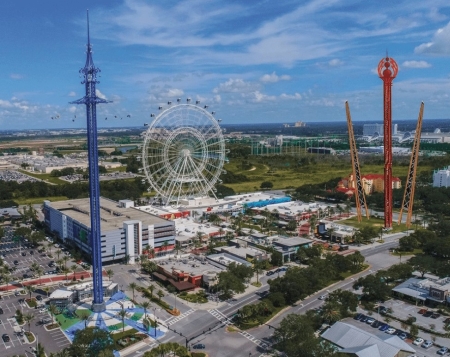 A trip to I-Drive is surely not complete without a stop at one of our largest entertainment complexes, ICON Park. Aside from amazing dining options, and world-class nightlife and entertainment destinations, ICON Park will be adding two new giants to their collection of ICONic Orlando rides in 2022! (And giants they are, so you won't have any trouble locating them.)
Look to the sky to spot the new Orlando Slingshot ride, and muster your bravery as you get ready to rise 300' above I-Drive before being catapulted 450'into the sky!
Then head over to the Orlando Gyro Drop Tower for yet another thrilling experience in the heart of Orlando. Reaching 400' high, and dropping guests from 350', you're sure to understand the true feeling of free-falling as you drop at speeds of 75 mph!
Get all the details about developments at ICON Park Orlando and get in on the action when you see what's new in 2022 on I-Drive.
Where to Stay
Whether you're looking for a place to call your home-away-from-home during your next Orlando vacation or you're looking to make the move in 2022 and call Orlando's Most Dynamic Neighborhood home; be sure to check out where you can stay while you check out what's new in 2022 on I-Drive.
Cambria Suites
A new hotel is being added to the long list of accommodations available on International Drive, Cambria Suites, formerly known as Vib Hotel Orlando is expected to be completed in February 2022. This hotel offers the perfect place to call your home-away-from-home in Orlando, but don't take our word for it. Check out just some of this hotel's features:
Less than 2 miles from Orlando International Airport with complimentary airport transportation
A short drive to area theme parks
Near Orange County Convention Center
Full-service restaurant
Bar serving local craft beers
Outdoor pool
Legacy Universal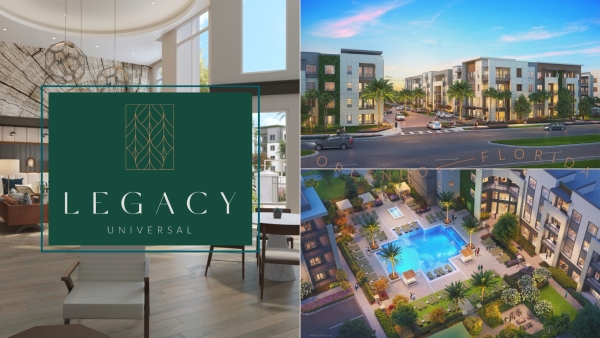 Located just south of Universal's Endless Summer Resort, newly opened Legacy Universal has it all. Aside from being located just minutes away from local favorite dining spots like Cafe Tu Tu Tango, Cooper's Hawk Winery, Fogo de Chao Steakhouse, FishBones, and more, Legacy Universal offers luxurious amenities in their rooms and communal areas, (for your dog too)and is just moments away from all of the action on I-Drive. If you're looking for a place to call home on I-Drive, you'll definitely want to see all that Legacy Universal has to offer before making your choice. More details.
Triton Cay Orlando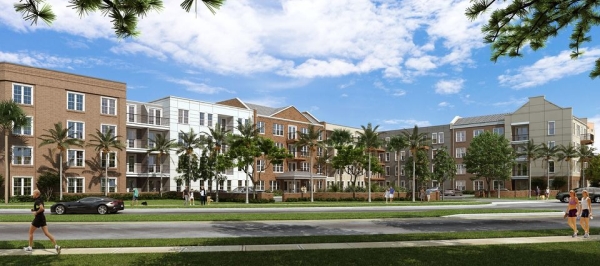 Also coming to the Universal area is the new Triton Cay Orlando – Universal Apartments, with phase 1 set to be complete just before the new year. This new apartment complex boasting over 500 units, and spanning over 3.5 acres, has something for everyone. Enjoy an authentic residential experience in one of the trendiest areas in the city, where modern design meets practical functionality, comfort meets style, and where your Orlando story begins!
From the spacious floor plans with dramatic open living spaces, state-of-the-art wellness center with Fitness-On-Demand, the pet spa and bark park, to a resort-inspired pool with an outdoor kitchen and fire pit, every feature promises a lifestyle of sophistication. Get more details about this new, and growing apartment complex here.
We're gearing up for an exciting year on International Drive and are looking forward to welcoming the many new and unique destinations and attractions that will be calling I-Drive home in 2022!
Find a full list of what's new in 2022 on I-Drive, and stay up to date on all I-Drive developments CLICK HERE, and get excited for an unforgettable visit to International Drive this year!