Nature lovers, outdoor enthusiasts and sportsmen will find much to appreciate on Florida's Historic Coast. Whether it's fishing on shore or off, bird-watching at key stops along the Great Florida Birding Trail, hiking through state parks and coastal areas, searching for wildlife, watching for sea life, biking, surfing, swimming or beachcomber adventures, there are plenty of eco-excursions to choose from in St. Augustine and Ponte Vedra Beach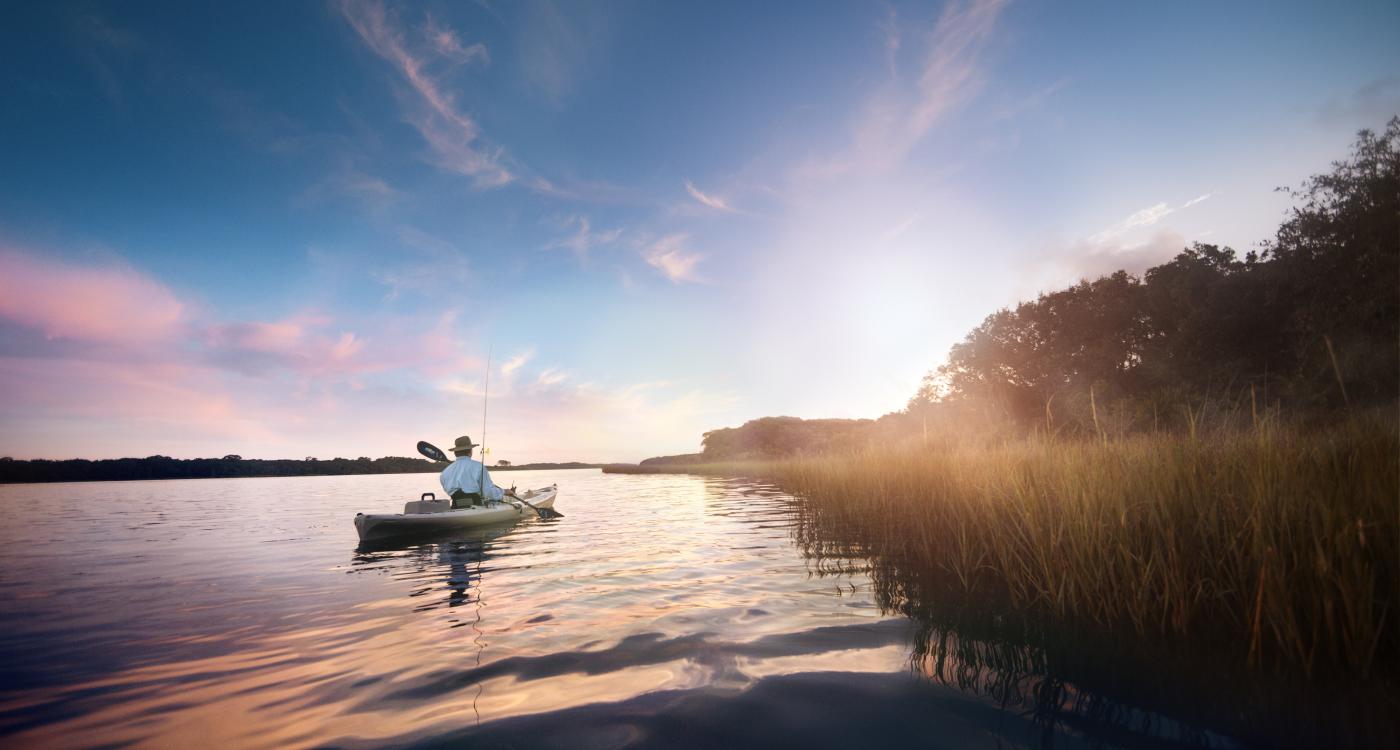 Waterways
Along with the Atlantic Ocean and the Intracoastal, the waters that surround Florida's Historic Coast are part of the 60,000-acre Guana, Tolomato, Matanzas National Estuary Research Reserve—referred to by locals as the GTM. This estuary stretches from Ponte Vedra Beach south to Marineland and contains extensive salt marshes, oyster beds and maritime hammocks.
Guided kayak tours provide an opportunity to get an up-close look at dolphins and other marine wildlife.  Salt marshes, accessible by boat or kayak give way to foot trails that bisect the region's beautiful maritime hammocks and the St. Johns River Basin. .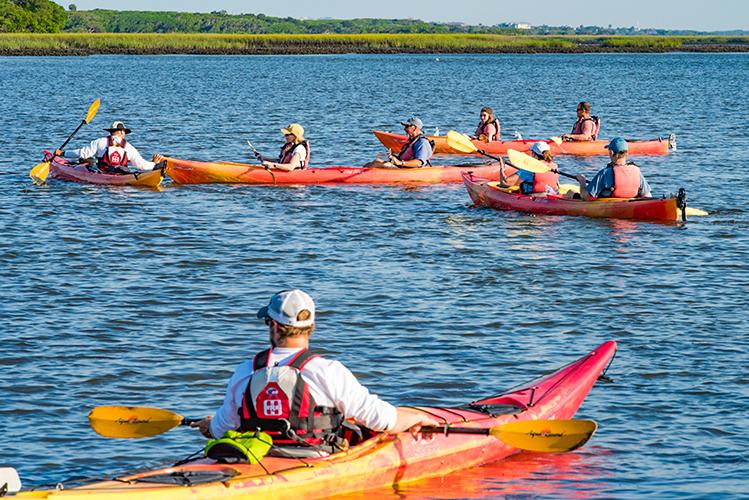 Fishing
The gentle swish of the surf along 42 miles of pristine Atlantic beach accompanies anglers casting beyond the breakers where, depending on the season, whiting, redfish, pompano, bluefish and maybe even a tarpon are searching for food, including the bait on the end of your line.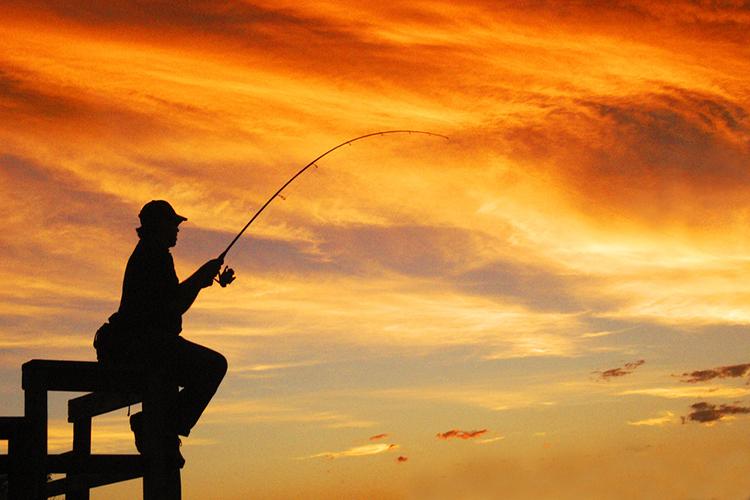 No boat? No problem. Florida's Historic Coast has fishing piers located on waterways ranging from secluded creeks to the deep blue sea. Extending 687 feet into the Atlantic, the St. Johns County Ocean and Fishing Pieris the area's longest and is ideal for out-of-state fishermen because a Florida fishing license is included for the day with the $3 admission. Other popular piers are at Lighthouse Park, Vilano Beach, and along the St. Johns River at the Shands Bridge and Alpine Groves Park. Get close to the big ones at several bridges – try A1A's  Matanzas Inlet Bridge 12 miles south of St. Augustine and the May Street Bridge on the way to Vilano.
If you want to get offshorethere are professional guides like Sea Love Charters, Drum Man Chartersand P&A Excursions. They know all the hot spots and can get you there and back.
And anglers looking for some competition will find it at the Ancient City Kingfish Challenge, which offers cash and prizes for the biggest catch. This annual tournament takes place from the St. Augustine City Marina on the Bayfront in July.
Birding
With eight stops on the Great Florida Birding and Wildlife Trail, the area is a bird watcher's paradise—especially the St. Augustine Alligator Farm Zoological Parkwhere thousands of coastal birds make their homes from March to June under the protection of the big  gators. In April, hundreds of birders and photographers come to participate in the Annual Florida's Birding & Photo Festwith world-class field studies and workshops.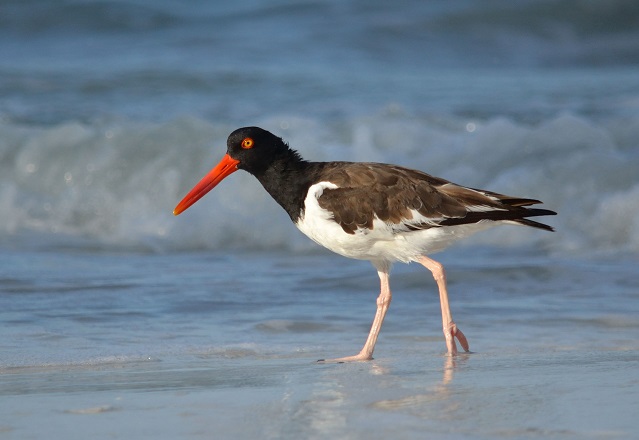 Although bald eagles can sometimes be seen, the majestic osprey rules the skies.  It's not unusual to see them soaring above the beach with a fresh fish trapped in their talons.  Other coastal birds are attracted to the area's abundance of fish. Sleek and fast-flying cormorants dive beneath the water to snare a meal.  Pink-hued roseate spoonbills (no they're not flamingoes) wade in marshes or soar over maritime forests. Colorful wading birds like blue herons, along with pure white egrets and ibises, are longtime locals.
Wildlife
Giant sea turtles nest on St. Augustine's beaches during the warm summer nights. In the winter months, the Northern Right Whale can be spotted from shore.
Until winter's cooling water temperatures send them south, the iconic Florida manatee can be seen in the bays and in the Intracoastal Waterway. Beachgoers are sailors are frequently entertained by leaping dolphin.
The gopher tortoise can be found in dry, sandy uplands, such as longleaf pine, oak-sandhills, scrub, and coastal dunes. The gopher tortoise is a land tortoise that originated in North America 60 million years ago, making it one of the oldest living species.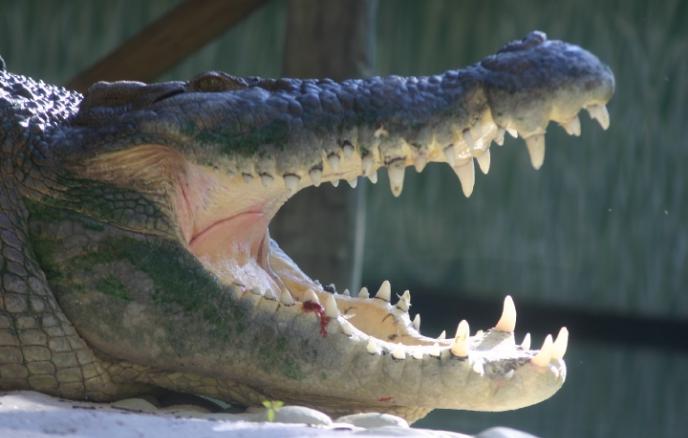 The St. Augustine Alligator Farm Zoological Park is the only place in the world where you can see every living species of crocodilian! They prefer fresh water lakes and slow-moving rivers and their associated wetlands, but they also can be found in brackish water habitats.
Biking
Florida's Historic Coast is a cyclist's paradise. Inviting weather, breathtaking coastal vistas, and the quaint historic downtown of St. Augustine attract bikers from near and far. Try the Scenic and Historic AIA Coastal Byway– a route with designated bike lanes between Ponte Vedra Beach to the north and Marineland to the south. And choose to participate in several different cycling events.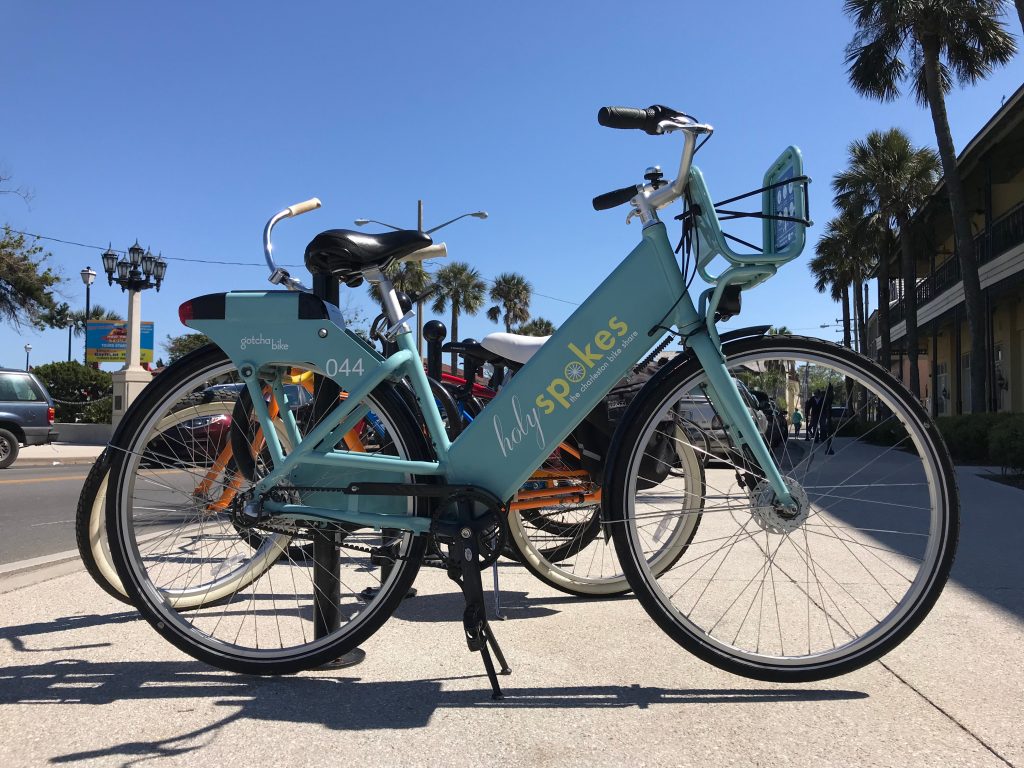 March
A Ride for the Wild Side: Florida Park Service's Charity Ride
Take a ride for the wild side in the state parks of Anastasia, Washington Oaks, Bulow Creek, Tomoka and North Peninsula. There will be no set route because bikers can go to as many parks as they like. St. Augustine. 904-461-2033 www.facebook.com/RidefortheWildSide
April
Annual Tour de Forts Classic
The North Florida Bicycle Club brings you a one-day bicycle event designed for all road cyclists. Ride in the footsteps of history on routes on coastal roads past the Castillo de San Marcos to Fort Matanzas. Longer routes ride through farmlands on the Palatka-to-St. Augustine State Trail and along the St. Johns River.  St. Augustine. 386-336-0637 www.caamevents.com/event/tour-de-forts/
October
Bike MS: PGA Tour Cycle to the Shore 2016
Bike MS: PGA TOUR Cycle to the Shore is a two-day fundraising cycling event from TPC Sawgrass in Ponte Vedra Beach to Daytona Beach and back. There are multiple route options. Ponte Vedra Beach 800-344-4867 https://secure.nationalmssociety.org/site/SPageServer/?pagename=BIKE_HOM_splash
November
Spoonbills and Sprockets Cycling Tour
Experience the beautiful Scenic and Historic A1A Coastal Byway on 36, 72 or 100 mile routes highlighting famous landmarks and locations. St. Augustine 386-503-5197 www.scenica1a.org
December
Rails to Trails Festival
This festival features Gullah Geechee artifacts, Gullah home cooking, and a bike tour along the Rails to Trails bike and walking trail. Elkton 904-806-3939 www.seachrc.org
Running
St. Augustine and Ponte Vedra's picturesque environment and year-round temperate climate attract runners from throughout the U.S. and internationally. Whether it's a jog on the beach, a run through the charming historic downtown or a 5K or marathon, Florida's Historic Coast is the perfect place to lace up your running shoes.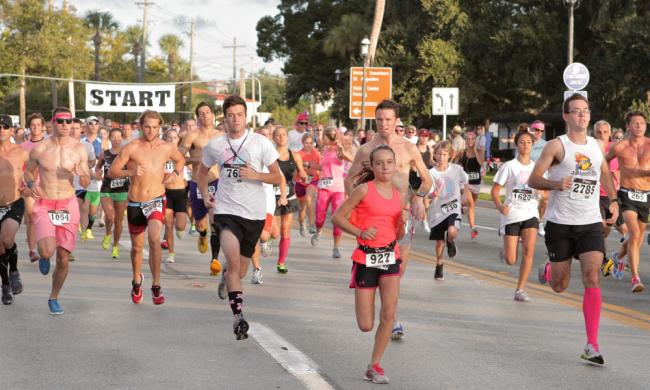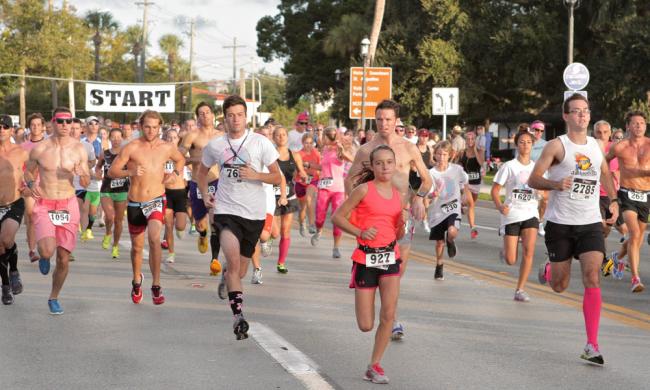 January
Matanzas 5000 5K & Fun Run
One of Florida's fastest 5K races on a scenic USATF-certified course. 904-461-1615 www.matanzas5k.com
Flip for Fun 5K
This race benefits WGV Gymnastics and begins at the Golfway Center. St. Augustine 386-747-3532 www.racesmith.com
3rd Annual Palencia Elementary Pirate 5K & Family Fun Run
This community event at the Palencia Club has something for health enthusiasts of all levels from a 5K to a one-mile Family Fun Run. St. Augustine 904-547-4010 www.thepirate5k.com
February
26.2 With Donna: The National Marathon to Fight Breast Cancer
Proceeds from this annual event go to breast cancer research. Donna Deegan's famous 5K, marathon, half marathon and Family Fun Run winds through four beautiful beach communities on coastal A1A, and finishes at Mayo Clinic. 904-355-7465 www.breastcancermarathon.com
St. Augustine Mardi Gras 5K and Fun Run
A fun5K takes runners through Anastasia State Park and on the beautiful, flat beach. Dressing up is encouraged, St. Augustine Beach 904-471-9622 www.firstcoastymca.org
5 for the 50 5K Run/Walk
This race supports the 50 million Americans suffering from the autoimmune disease, Lupus. The route begins at theSt. Augustine Amphitheatre and winds through Anastasia State Park. St. Augustine 904-829-3295 www.racetothetaste.org
5K Race to the Taste
This race starts and ends at the St. Augustine Amphitheatre with the course going through Anastasia State Park and surrounding neighborhoods. Race registration includes free admission into the Taste of St. Augustine. St. Augustine 904-829-3295 www.racetothetaste.org
March
Vilano Bridge 5K Run & Walk
The Vilano Bridge 5K run/walk winds through the Vilano Beach community, crossing the scenic Vilano Bridge with its sweeping views of the Intracoastal and area beaches. St. Augustine. 904-461-1615 http://www.vilanobeachfl.com
April
Annual Betty Griffin House 5K Run & Walk
This family-friendly race begins at the St. Augustine Beach Pier Pavilion and takes participants along a route through the charming beachside communities on Anastasia Island. St. Augustine Beach. 904-808-8544 www.bettygriffinhouse5k.org
May
THE PLAYERS DONNA 5K
THE PLAYERS DONNA 5K is an event to raise funds to finish breast cancer. Runners and walkers of all levels are welcome to experience a behind-the-scenes 5K route through the beautiful PLAYERS Stadium Course at TPC Sawgrass. Ponte Vedra Beach http://breastcancermarathon.com/the-players-5k/participant-info/
July
Bridge of Lions 5K Run
Runners and walkers begin at the historic Castillo de San Marcos National Monument and cross the Bridge of Lions. St. Augustine 386-747-3532 www.bridgeoflions5k.com
August
Alex's Capes and Tiaras 5K
All proceeds from the 5K race benefit NMD United and the Alex Landis Difference Maker Scholarship. Runners, walkers and wheelchair rollers are all invited to participate. St. Augustine 904-814-6668 www.racesmith.com
November
St. Augustine Half Marathon Weekend
Put on your running shoes and participate in a foot race that suits your running level from a 5K, to a 10K to a Half Marathon. St. Augustine 305-716-1111 www.staugustinemarathon.com
December
Santa Suits on the Loose 5K Walk/Jog/Run
St. Augustine Youth Services hosts this professionally timed and scored 5K. There is a choice of Santa suit or t-shirt for the first 100 registrants. St. Augustine Beach 904-829-1770 www.racesmith.com/races/santasuitsontheloose5k.html
Divas Half Marathon and 5K 
Run like a diva in this fun and glam women's running series. The 5K and half marathon include a boa and tiara station just before the finish line. St. Augustine Beach 800-733-7089 www.runlikeadiva.com
Located midway between Daytona Beach and Jacksonville, Florida's Historic Coast includes historic St. Augustine, the outstanding golf and seaside elegance of Ponte Vedra and 42 miles of pristine Atlantic beaches. For more information on events, activities, holiday getaways, accommodations and to plan your vacation in St. Augustine, Ponte Vedra & The Beaches, go to the Visitors and Convention Bureau website at www.FloridasHistoricCoast.com, become a fan on Facebook or call 1.800.653.2489.
# # #